Arrested at School
Mother feels Beaumont failed her daughter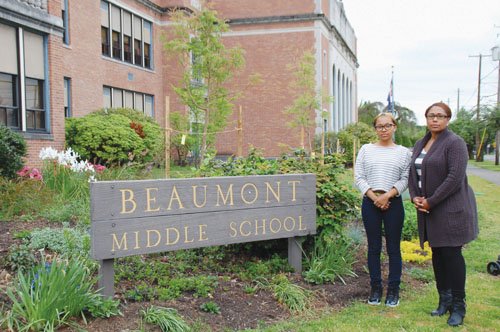 Getting arrested isn't an act any child should ever have to experience, yet for a 12-year-old girl, that traumatically scarring experience became a reality.
An iteration of this story first broke a few weeks ago when it was reported that the young female was taken into custody for attacking another student and a substitute teacher at Beaumont Middle School.
While the date regarding the fight and the arrest two weeks later was accurate, the full details behind the incident were missing or false, according to the girl's mother Mystique Pratcher and discipline records from the northeast Portland school.
Pratcher said she was shocked when Willamette Week published a story just two days after her daughter's March 31 arrest. She calls foul on the school as the source for the media coverage because a police report had not been filed.
She says Beaumont has an issue of disciplining African American and Latino students more than anyone else, and claims that in her daughter's case, the infractions have been for minor things, like being too loud.
"I'd already been having some issues with students being treated different because of their race at Beaumont," she told the Portland Observer. "Emaujah had 10 referrals and all of them were for being loud in the hallway, during passing times. Not being loud in the classroom, not being disrespectful to staff -- for talking too loud," she said.
Pratcher said her daughter and another student got into a mutual altercation on March 18. Each student was suspended for the spat, yet only Emaujah was taken into police custody.
A school Disciplinary Action Form documenting the fight, drafted by Student Management Specialist Jennifer Bennett, has now been officially amended.
Emaujah was described as the aggressor in the original report, which did not mention the other student's full level of involvement. Both the principal and vice principal of the school, Harriette Vimegnon and Ed Krankowski, wrote in follow-up correspondence feeling the first report was a poor representation of the actual situation.
The amended discipline statement has some facts in her daughter's favor, including an acknowledgment that the other student swung at her first and the fact that another student present had shouted for Emaujah to be "left alone." A description of Emaujah calling out that she wanted to "scrap" with the other student involved was removed.
"Why would someone say 'Leave Emaujah alone' if my daughter was being the aggressor?" Pratcher asks, "Emaujah has never been in trouble for fighting at Beaumont."
Neither the original nor the revised discipline form stated anything about Emaujah striking the substitute teacher.
"I took her to school at 9 a.m. and at about 9:45 a.m. I get a call from Emaujah saying 'Mom, they're trying to arrest me! I didn't do anything!' And then the phone hangs up," Pratcher recalls. "So I'm calling the office trying to figure out what's going on [and when someone answers] I hear her screaming and crying in the background."
When Portland police came to Beaumont on the day of the arrest, Emaujah was then handcuffed and transported to a juvenile facility where she took a mugshot photo and was fingerprinted.