Arrested at School
Mother feels Beaumont failed her daughter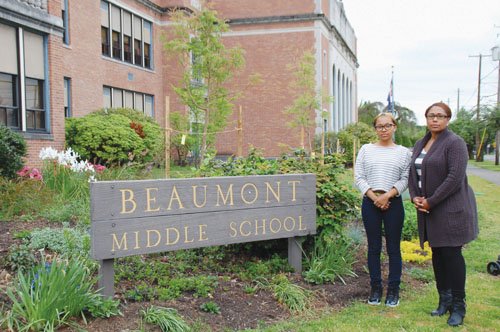 Upon returning to school, her daughter received additional discipline referrals for miscellaneous inane reasons, Pratcher said, the last of which led to her permanent separation from the school.
On April 15, she received an email from Principal Vimegnon saying that her daughter had been suspended in order to investigate grounds for expulsion. The listed the reasons for her suspension as "open defiance," "insubordination" and "willful disobedience."
Pratcher is upset that the final incident that got her daughter into trouble was for having a cell phone on her desk in math class, not in use, but for refusing to hand it over to her teacher when asked.
Principal Vimegnon said Beaumont does have a rule allowing students to have cell phones for academic reasons – such as calculating – yet it was deemed by Emaujah's teacher that her intentions were non-academic.
Pratcher said if her daughter recorded a video with her phone, then everyone would believe her, but says the school is so stern, it wants to keep phones away from students.
For students at risk of expulsion, a hearing between the family and school officials is held to determine a final course of action. Emaujah's hearing was held at an offsite location.
The over two hour long meeting addressed some of the issues at hand, yet didn't tackle any of the questions both Pratcher and other organization members also present at the meeting had about Beaumont's conduct. The only real conclusion reached was that Emaujah's behavior did not constitute grounds for expulsion.
Despite the school's decision to keep Emaujah at Beaumont, both Pratcher and her daughter feel uncomfortable with the school's practices and have chosen to remain at great distance.
"What student would want to come back after being treated like this? There are things happening in the school that need to be addressed. My daughter is being traumatized and arrested under a false report, like why is that not being addressed? The school is being treated like a juvenile delinquency center, but only to specific students," Pratcher said. "They're just after Emaujah, trying to make it seem like she's a 'problem child.' It's classical conditioning. They know if they approach in a certain way that you're going to respond in a certain way, and then you're going to get a consequence."
Pratcher plans to take this case to court on terms of defamation of character. Her frustration grows from not getting an adjudication hearing or a formal petition regarding the case, even after three attempts to contact the juvenile facility.
She's been told the district attorney has not yet responded to the juvenile facility's request, leaving the exact reasoning for her daughter's arrest still unanswered. As it stands, there are still no official charges against her daughter.
"Somebody else needs to be held accountable. No one is being held accountable for what they did. I can't trust anybody. I'm the only person that can advocate for her. She doesn't know what's going on, she's 12," Pratcher said.
Though Pratcher is weary, she states that both her and her daughter have a team of family and community members supporting them.
As for Emaujah, she plans to begin her 8th grade year at another local middle school and remain running track.