My Non-Traditional Face Closes Doors in Election
Why I am running for mayor
Deborah Harris | 5/3/2016, 2:12 p.m.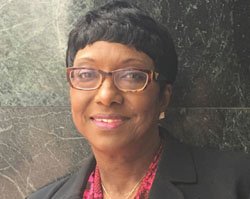 I'm writing to respond to those Portlanders and entities that continue to question why I am running for the office of Mayor with my background as African American and female who has never held a major public office. There's been a lack of equity and inclusion for me as a participant in many of the candidate forums and interviews that only white candidates have been invited to.
The question has been posed to me both at forums that graciously have invited and embraced me as a mayoral candidate, and by forum sponsors that chose not to welcome my participation. Media also ask why I chose to run for the office of Mayor instead of another position such as county commissioner or state representative.
My response is that the need to take action on social justice, affordable housing, houselessness, economic development, quality of education are issues facing the next mayor of Portland . These issues have not been sufficiently addressed and cannot simply be placed on lay-away.
In order to address the multi-tier issues that face our city, we must begin by building a healthy city, neighborhood by neighborhood, through strengthening citizen involvement through the creation of single-member geographical districts.
Very recently I attended a candidate's fair sponsored by the Rose City Park Neighborhood Association, although I was not invited as one of the "signature" participants, my attendance and observations validated our city's historical and continued problem with a lack of equity and inclusion. Portland's political arena has a traditional process of force feeding their favorite candidates to the citizens.
Considering my parents and grandparents who worked very hard and sacrificed much for my ability to obtain a Bachelor of Arts degree, Master's Degree, and my success as a manager for a a multi-million dollar industry, not to mention designing and managing mentoring programs for youth, faith-based participation in food, clothing and mission work within and outside of the community, and engaging with Oregon correctional facilities to encourage and inspire incarcerated men and women to "Move Beyond Their Walls," I define these attributes and credentials as "signature." .
Portland is in a time and season that demands bold and courageous leadership with a compassion for the needs of all of the people, not just a chosen few.
It is time-out for a traditional mayor whose desire is to make the city livable for the haves while leaving the have-nots more broken promises and dreams deferred. I am on this journey to transform the traditional mindset of leadership within our city where decisions that significantly impact the livelihood of all citizens cannot be made solely behind the walls of city government. I am in this race to paint and exemplify leadership that will move into the communities, listening with a passionate ear to the concerns for the people who have walked in those shoes and lived the experience. Nontraditional choices can open a floodgate to resolutions on issues that are community specific and cultivate higher values and principles.
The lyrics to one of my favorites songs resonate, "Nobody told me the road was going to be easy." Historically as I roll back the camera, I have encountered many rough roads, yet through determination and being confident, whatever the outcome, I win. Being a new and non-traditional face in this mayoral race does cause some doors to close, yet those closed doors can be permanently re- opened with a vote for me at the Primary Election on May 17.
Deborah Harris is candidate for the office of Mayor of Portland.