Ballots Due
Decision time for Oregon voters
5/10/2016, 3:32 p.m.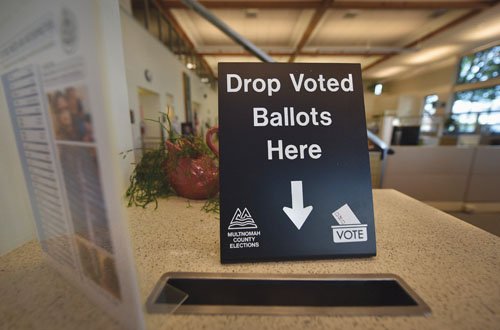 Oregon's Primary day is right around the corner and one look into the Voter's Pamphlet shows the magnitude of issues and candidates facing voters. With ballots due by 8 p.m. on Tuesday, May 17, the time to hone in on which way to vote is now.
A split choice in the Democratic Party between Bernie Sanders and Hillary Clinton gives Oregon a voice on who is best to face Donald Trump in the November General Election. Trump has become the presumptive Republican nominee nationally after vanquishing all of his primary opponents. Clinton leads Sanders, but hasn't reached the total delegates to push her over the top. Though Clinton has a longer political resume, Sanders' forthright and grassroots campaign has also made him a popular choice.
In local races, Tawna Sanchez and Robert Phillip-Robbins highlight a primary race for state representative in House District 43, covering the heart of Portland's historic African American community in inner north and northeast Portland. The winner would advance to the November General Election as the odds-on favorite in a heavily Democratic district.
Sanchez and Phillip-Robbins are gunning for Lew Frederick's seat as he turns his attention to running for Senate District 22, which covers the same area as his house district in combination with neighboring House District 44, which extends northwest to St. Johns and the Columbia River.
Some of Frederick's issues are cutting healthcare costs and bringing more afterschool and summer programs to neighborhoods. Sanchez and Phillip-Robbins both support more affordable housing, labor rights, and stabilizing the Cully neighborhood where poverty is greater than other parts of Portland and where many residents live on unsafe streets without sidewalks.
Several minority candidates are vying for voters in races for the Portland City Council and Multnomah County Commission, including Deborah Harris and Bruce Broussard in a crowded race for Portland mayor. They face a daunting challenge to overcome the name familiarity of Oregon Treasurer Ted Wheeler and Multnomah County Commissioner Jules Bailey who are among the 15 candidates running to replace Mayor Charlie Hales, who did not run for re-election.
Portland City Commissioner Steve Novick drew a challenge from long time northeast Portland activist and African-American resident Fred Stewart and eight other candidates. Lanita Duke is facing up against incumbent City Commissioner Amanda Fritz, and Marisha Childs, a black attorney from southeast Portland, is running for Multnomah County Commission in District 1.
In the city and county races, if no candidate receives more than 50 percent of the vote, there will be a runoff between the top two contenders in November.
Two local tax measures are up for voters, specifically Measure 26-174, which would renew a Multnomah County levy supporting the Oregon Historical Society's Museum and Library, and Measure 26-173, a city of Portland proposal to place a .10 cent/gallon tax on gasoline, going towards road and sidewalk repair.
All registered voters should have already received their ballots in the mail, according to elections officials. Any registered voter that hasn't received a ballot must contact the county elections office at 503-988-3720.