Ethnic Studies for All High Schools
5/10/2016, 2:56 p.m.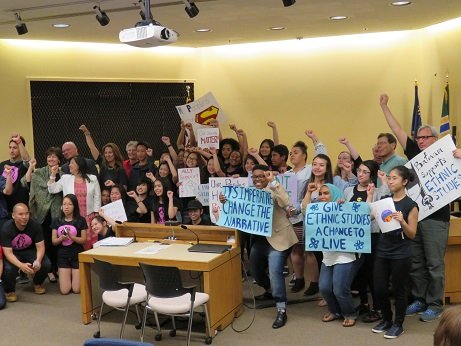 In a 7-0 vote, the Portland Public Schools Board of Education has agreed to support an expanded ethnic studies curriculum in all of the district's high schools.
The proposal was generated by the Asian Pacific Network of Oregon (APANO) and its youth organization group, Asian and Pacific Islander Leaders for the Liberation of Youth, or "ALLY" for short. Public testimony and letters in support were also drawn from the Native American Youth and Family Center, the Urban League of Portland, Latino Network and Momentum Alliance.
The original plan was heavily backed by Dr. Julie Esparza Brown, a member of the school board and a Portland State University professor. It calls for at least one ethnic studies course in each Portland high school as well as the creation of both an oversight committee and a student advisory council to oversee the curriculum's implementation.
Superintendent Carole Smith will lead the district in working the courses into their budget, while also working with an APANO ALLY leader to co-create the ethnic studies curriculum. With everything in place, course offerings should be in gear by Fall 2018.