In Loving Memory
Gladys Farve
5/11/2016, 12:59 p.m.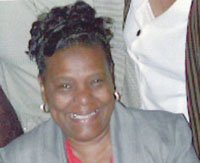 Gladys Farve passed away peacefully on Wednesday, May 4, 2016. She was born on Dec. 12, 1941 in Bonita, La. to Amos and Helen Hawkins Mott.
In addition to Antione, her loving husband, she is survived by her children, Gail Farve of New Orleans, Antione J. Farve IV of Portland, Desiree Farve of Gaithersburg, Md., Antionette Robinson of Portland, and Delaney Farve of Vancouver; and five grandchildren, five great grandchildren, eight siblings and host of nieces, nephews and cousins.
She was preceded in death by two of her children, Andre Farve of Portland, and Denise Farve of New Orleans; her parents; stepfather Robert Taylor and four siblings.

A viewing will be held Wednesday, May 11 from 4 p.m. to 7 p.m. at Terry Family Funeral Home, 2337 N. Williams Ave. A Mass of Christian burial will be held Friday, May 13 at 10 a.m. at St. Andrew Church, 806 N.E. Alberta St. A repast will follow at 11:30 a.m. in the church community center. In lieu of flowers, remembrances may be made to the Alzheimer's Association.