In Loving Memory
Maddie Mary Davis Richmond
5/11/2016, 12:39 p.m.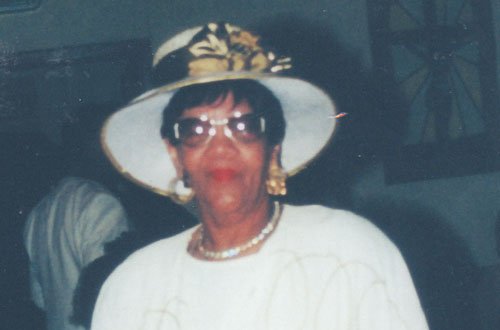 Maddie Mary Davis Richmond was born April 9, 1927 in Garyville, La., to Gertrude Smith and RD Davis. Her twin sister Martha passed away in infancy. She also had a father known as "Daddy Smith" of New Orleans. She was raised by her paternal grandmother, Rebecca Davis, whom she loved as her mother and was affectionately known as "Grand Mama Dynamite."
She was baptized at an early age and later became a devoted Catholic. She and her mother moved to Portland in 1945.
In 1946 she married her childhood sweetheart, Marshall C. Richmond Sr., in Vancouver. To this union were born 11 children.
Maddie was a retired cosmetologist of 35 plus years. She trained and mentored with Mrs. Etoile Cox, and in 1944, passed a state of Oregon board to acquire a license in cosmetology. She worked with Ms. Irving and with Mrs. Dean's hair salon on Hancock Street. Shortly after, she acquired her own hair salon from lovely Hattie Porter and became the owner of Maddie Beauty Salon on North Albina. She also worked at several funeral homes preparing hair and make-up for home-going services.
She has two grandkids named after her from her son Randall, his daughter Mary and grandson Nate. She also has a great-granddaughter D'Naejah who was born on her birthday. These are special memories she held dear.
In 2010 Maddie's daughter Sheila Washington preceded her in death. The two were inseparable at the time, enjoying thrift shopping, bingo and grocery shopping. They also worked together as certified nursing assistants.
Maddie's hobbies included going to the race track, playing cards and going to OG Motors when in the market for a Cadillac. She also loved her last car, a Lexus. She enjoyed cooking gumbo, frying fish, making greens and hot water corn bread.

She had a very strong and independent personality. If you knew her then you respected her. She was a very loving and generous person. She would feed anyone and help them financially if they needed it. If you crossed her she had no problem telling you where to go and how to get there. She loved her husband and enjoyed talking about him. She was a loving mother who protected her children and grandchildren. She loved her sisters and brothers. She will be deeply missed.
She leaves to cherish her life with memories, children Marshall (Ly) of Las Vegas, Nev.; Gail Blake of Portland; Rebecca Gator of Atlanta, Ga.; Ralph Richmond, Ellen Stevenson, Randall Richmond, and Marilyn Lindsey, all of Portland; Arnethia Hammick of Federal Way, Wash.; and Ramona LaGrone–Eshmon (Reginald) of Tacoma, Wash. Brothers and sisters James Smith (Shirley) of Seattle; Rudolph Smith (Margaret), Emile Smith and Irma Smith, all of New Orleans, and a host of grandchildren, great grand children and great-great grandchildren. She also leaves to memory, a host of nieces, nephew, and friends.
Also preceding her in death were her husband, Reginald Richmond; and siblings Herman King, Elenora King, Alfred King, Anna Mae King and Joe Smith.
A Mass of Christian Burial will be held at St. Andrew's Catholic Church, 806 N.E. Alberta St. on Thursday, May 12 at 11 a.m., with entombment to follow in Rose City Cemetery, under the direction of Rose City Funeral Home.