Oregon's New Poet Laureate
5/11/2016, 12:52 p.m.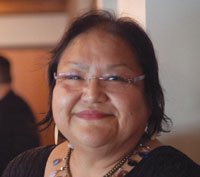 Elizabeth Woody of Portland and Warm Springs is the new Poet Laureate of Oregon.
Oregon Gov. Kate Brown, in making the recent appointment said, "The energy of Elizabeth Woody's words bring to life the landscapes, creatures and people who make Oregon special."
"As Poet Laureate, she will be a great asset to our state, using vivid storytelling to help us understand who we are as a larger community."
Woody was born on the Navajo Nation reservation in Ganado, Ariz., and is an enrolled member of the Confederated Tribes of Warm Springs. She has published poetry, short fiction and essays, and is also a visual artist. "Hand into Stone," her first book of poetry, received a 1990 American Book Award. In 1994 she published "Luminaries of the Humble" and "Seven Hands, Seven Hearts."
"The power of language in poetry, song, story and legacy has kept Oregon's communities vibrant," said Woody. "It is an honor to be Oregon's poet to serve our state's communities in the next two years and reflect upon their strength."