Roadblocks at the Courthouse
Report on DAs is push for criminal justice reform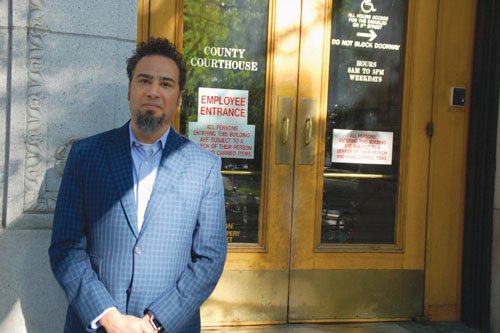 "It is a secretive process," he said, "There is no recording made and no one in the room can discuss what happened. DAs can get any result they want form the grand jury process but their message to the public is 'trust us'. There is no transparency or accountability."
Citing the "atrophied democracy" around DA races, he said it's no wonder that public has very little understanding of how powerful district attorneys are and the role they play in the criminal justice system.
"We rely on elections to elevate public conversations around important issues," Rogers said. "The dynamics around district attorney elections and appointments mean that the voters don't get to influence critical policy concerns about the direction of our criminal justice system."
He said there is some hope because of a changing political landscape and the increase attention to the positions raised by the ACLU of Oregon and other advocates.
Local groups like the Portland NAACP and Albina Ministerial Alliance Coalition for Justice and Police Reform have been on the front lines in the push for criminal justice reforms, and the Black Lives Matter movement has raised the visibility of justice issues nationally and in Portland.
In Chicago, Anita Alvarez, a hardline prosecutor under serious criticism or her failure to hold police accountable for high profile shootings of young black residents, got taken out in the primary, Rogers said, adding that "This was huge."
The ACLU of Oregon report also calls for the governor to use justice reform-minded criteria when appointing interim district attorneys. Nearly half of all the current DAs in the state were initially appointed to their offices by the governor.
Rogers said the appointment process flies under the radar and allows incumbent DAs to recommend their hand-picked successor to the governor. Once in office, a sitting district attorney is very like to be reelected, so competition is scarce.
Ultimately, Oregon's criminal justice system is unlikely to be reformed without more competitive district attorney races, gubernatorial appointments that support reform-minded candidates, and increased public engagement with sitting DAs around critical community issues, the study finds.
Rogers was named executive director of the ACLU of Oregon last June. He has over 20 years of social justice organizing, advocacy, and organizational development experience including eight years as the executive director of the Portland-based Partnership for Safety and Justice.
He also has extensive relationships with Oregon advocacy organizations rooted in communities of color and groups working for gender justice, immigration reform, economic and environmental justice, and was the recipient of a Charles Bannerman Fellowship for Organizers of Color from the New World Foundation.
The full DA Roadblocks to Reform report can be found on the ACLU of Oregon website at aclu-or.org/DAreport.