Special Season Ends
Blazers fall to defending champion Warriors
5/12/2016, 10:30 a.m.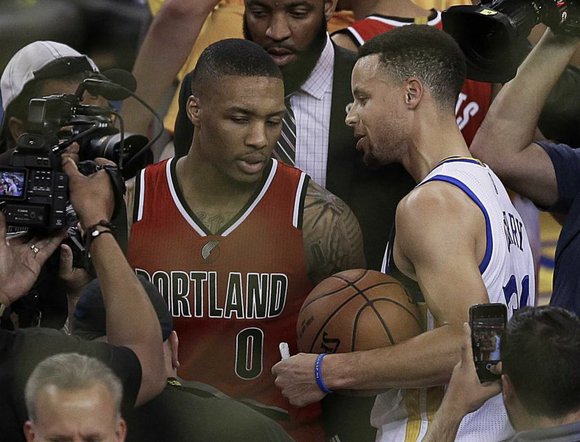 A special season in which the Portland Trail Blazers defied expectations and advanced to the postseason with an exciting playoff run ended Wednesday night in Oakland.
The Warriors have advanced to the Western Conference Finals after eliminating Portland with a 125-121 victory in Game 5.
The Warriors' Klay Thompson was brilliant, leading all scorers with 33 points. NBA MVP Stephen Curry notched a double-double with 29 points and 11 assists, while Draymond Green stuffed the stat sheet with 13 points, 11 rebounds and six assists.
For the third time in five games, the Warriors erased an early double-digit deficit to hand the Trail Blazers a frustrating loss. The only difference this time was that it ended Portland's season. Facing elimination, the young Trail Blazers opened the game with the kind of intensity and aggressiveness you'd expect from a squad playing for their playoff lives. But as the night wore on, the veteran Warriors slowly gained momentum, and turned the tables on the Trail Blazers in the final quarter to close out the series.
With the victory, Golden State wins the series over the Trail Blazers four games to one. They'll now advance to the Western Conference Finals for the second consecutive year for the second time in franchise history where they'll face the winner of the ongoing series between the San Antonio Spurs and Oklahoma City Thunder.
(Thanks to NBA.com for contributing to this story)