Things to Keep Out of Your Recycling Bin
The ins and outs of recycling
Rebecca Koffman | 5/17/2016, 4:23 p.m.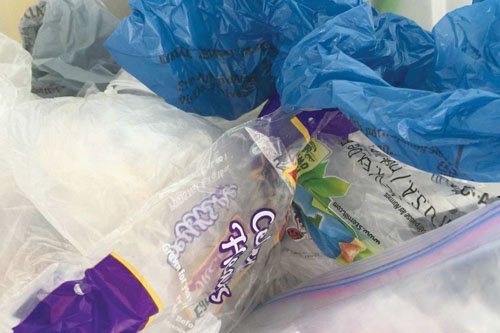 You're at home in front of your recycling bin. Maybe the bin is in your driveway, or in the parking lot of your apartment complex. Maybe you're in your bathrobe. Maybe it's raining. And you've got a take-out container. Or some weird packaging you've never seen before. Is it recycling or garbage? Read on for what goes in and what stays out of your home recycling bin.
When deciding which plastics to throw in your curbside bin, "pay attention to shape and size," says Betty Shelley, a recycling expert who has answered calls and emails at Metro's Recycling Information Center.
Shapes to look for? Bottles, jars, buckets and tubs. Remember bathroom products like shampoo and body lotion, as well as garden pots, are also often recyclable at home.
What stays out of your home bin: Plastic bags: "Plastic bags absolutely can't go in," says Shelley. "They get tangled in the machinery at the sorting facility."
Plastic lids are also a no. These tend to be small and thin, and so are easily hidden by paper and cardboard as they make their way along the conveyor belts at sorting facilities. They can then end up in bales of paper or cardboard – making those bales harder to sell, and therefore harder to actually recycle into new paper products.
Plastic clamshells, those containers that salad greens, cherry tomatoes, and deli salads and sandwiches are packed in, along with some other similar plastics, are not recyclable at home. Sorting facilities don't have the machinery to deal with them and the plastic they're made of can be harder to sell to recyclers.