Vanport Mosaic
Celebrating a history, culture and legacy
5/17/2016, 4:46 p.m.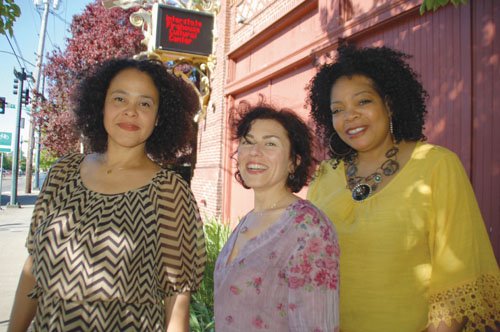 Last year, when three women artists came together to discuss their separate Vanport-related projects, they had no idea where their shared interest would lead. Still, the talking continued, historians, educators, and other artists joined the conversation, former Vanport residents expressed excitement, and eventually, the word "festival" was put on the table.
The three artistic co-directors, "story midwife" Laura Lo Forti, theater artist Damaris Webb, and S. Renee Mitchell, a former columnist for The Oregonian, are now responsible for curating a series of events, including theater, poetry, film, academia and a residents' reunion, to celebrate the history of Vanport, once the second-largest city in Oregon that at its peak had more than 40,000 residents.
"We have to amplify the silent stories of the past, and listen intentionally so we can better understand who we are, and why the city of Portland is how it is today," says Webb. "If we don't celebrate and engage with these living stories now, they'll be gone forever."
This coming Memorial Day marks the 68th anniversary of the Vanport Flood, which destroyed Vanport, a city whose historical impact remains largely unknown, especially to the thousands of new residents who have recently moved into the metro area.
This year's inaugural Vanport Mosaic Festival, scheduled for May 27-30, seeks to educate the public on the history, culture, and legacy of Vanport, which brought together a mix of races across the country to work in Portland's shipyards during World War II.
Festival activities will also capture and preserve memories of former residents as part of the Vanport Mosaic community-based oral history project led by Lo Forti.
"Vanport is so much more than the story of the flood," notes Lo Forti, organizer of the festival's Lost City, Living Memories: Vanport Through the Voice of Its Residents, a compilation of short community-produced documentaries featuring former residents. "And, the people who lived there are more than the victims of a disaster."
The festival will offer an array of events hosted at various venues throughout north and northeast Portland, including screenings; a historical exhibition in tandem with Cottonwood In the Flood, a full-length play running through June 12; an educational symposium curated by Concordia University; and Welcome Home to Vanport, which includes self-guided walking or biking tours of the former Vanport grounds currently occupied by Portland International Raceway.
Special guests include Oregon Sen. Jackie Winters; City Commissioners Amanda Fritz and Nick Fish; Henry Mead Kaiser of the Kaiser shipbuilding family; Portland Community College professor of history James S. Harrison; Shalanda Sims, director of "Vanport, The Musical," performing songs from her play, and poets associated with Spit/WRITE, a youth voice initiative.
Vanport Mosaic Festival events are free or low cost, though some will require tickets or reservations. Donations are accepted. The festival headquarters is located at the Interstate Firehouse Cultural Center, 5340 N. Interstate Ave. For more information visit vanportmosaic.org/festival2016 or call 510-717-2441.