In Loving Memory
Samoyia LaCheryl Lowe
5/19/2016, 9:44 a.m.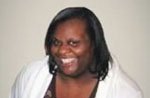 Samoyia LaCheryl Lowe, 34, was born Oct. 24, 1981 in Portland and passed away peacefully in Portland after a long battle with cancer. She was the only child born to Cheryl A. Harris and Curtis T. Lowe.
She grew up in southeast Portland where she was matriculated through the public school system, attending Ventura Park Elementary School and then moving to northeast Portland where she graduated from Thomas Jefferson High School as a member of the millennial Class of 2000. Samoyia worked at various companies throughout the Portland area including ACS, a Xerox Company where she excelled in her job and became a supervisor. She enjoyed cooking, poetry, drawing, reading, music and sports.
She was sweet, loyal, positive and easy-going in her soft spoken way, a rock to many. She was affectionately nick named "Scorpio Girl" by close friends.
Samoyia is lovingly remembered and survived by her mother, Cheryl A. Harris; her father, Curtis T. Lowe; aunts, Diane Harris, Kandyce Harris, Drs. Dana Harris-Echols (Eric), Robin Lowe; (honorary aunt) Stacy Buchanan; uncle Phillip Harris; cousins, Phyllis Harris, LaShaun Harris, Doris Lowe, and Namon Franklin; a host of other relatives including many godchildren; close family friends B (Becca) Lynn Cheatham and Wendy Pruett; and a treasure trove of friends.