Gender Barriers Hold True
State teams up with tradeswomen to fight job site duress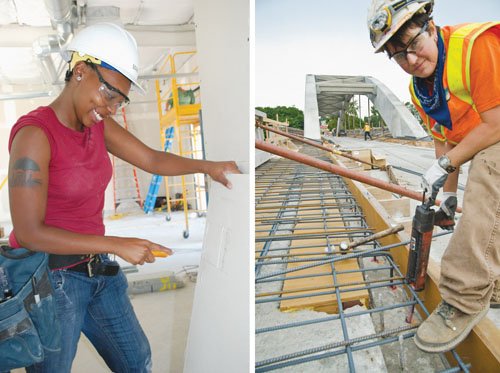 Despite how far Oregon and the country has progressed against outdated and discriminatory traditions impacting gender and racial minorities, studies show both groups still experience inequality in the workplace, especially so in the white and male dominated construction trades where taunts against women and minorities still hold true.
"My, they would say a lot of nasty things. They're just too nasty to really repeat," noted Cindy, a participant in a recent Oregon study on gender and minority discrimination in trades work.
She said the inappropriate remarks from male coworkers, and at times superiors, coalesce with other stereotypes to keep women like her away from the same jobs men hold.
Inequality has long been the norm in the pay female workers earn in all professions, according to national studies that show women earn 79 cents to every dollar men make for the same work. But in the trades, it's often issues of sexual harassment and bigoted opinions on race and gender that remain major obstacles to progress.
A study conducted by Portland State University and commissioned by the Oregon Bureau of Labor and Industries (BOLI) and the Oregon Depart of Transportation (ODOT), revealed that women and people of color were less likely to finish their highway construction apprenticeships, partly due to discrimination and unfair treatment.
Only 32 percent of men of color, 26 percent of white women and 19 percent of women of color actually end up completing job site training programs, called apprenticeships, the 2014 report found. White males had a completion rate of 41 percent.
Ben, a black male that participated in the study, described what was typical for him to see on the job.
"A lot of the times in construction the majority [of the workers] are white guys…a lot of times I've been on the job, I've been the only black guy on the job. So that makes you nervous going into a situation like that. But I just keep strong and I'm here to work, learn and try not to think about it," he said.
Oregon is one of the only states that utilize federal highway funding towards incorporating more women and people of color into highway construction trade jobs, but it's also evident more action is needed to improve the job retention rates.
A new effort to bring diversity to construction work has been taken by the nonprofit support group Oregon Tradeswomen, Inc., which is working with BOLI and ODOT on a program that aims to increase the apprenticeship retention rates of women and people of color in highway construction.
"I am really excited about this project, said Tiffany Thompson, the advocacy program manager at Oregon Tradeswomen. " It has an innovative approach that incorporates workers driving cultural change in the industry while also providing more education about avenues for formal complaints."
Thompson said the effort has the potential to make significant shifts in the way co-workers and managers treat each other.
"We are also doing evaluation research throughout the project, so we know if it actually effective. I feel so grateful that BOLI and ODOT are invested in this and that our partners on the project are dedicated to finding a solution," she said.