Wellness at Benson
Health center improves outcomes and provides career mentoring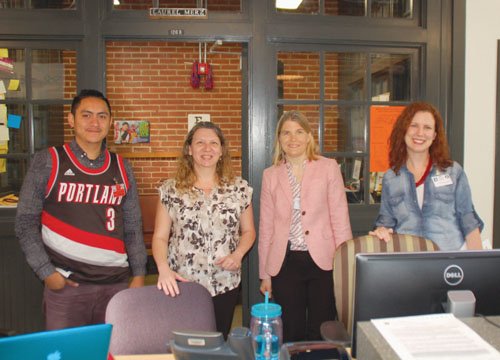 Providing students with easy access to health services, Benson Polytechnic High School recently unveiled their new student wellness center, in conjuncture with Oregon Health and Sciences University.
Located on the Benson campus, the wellness center is staffed by OHSU Department of Family Medicine residents and faculty, as well as specialists from the Multnomah County Health Department, Multnomah Education Service District School Health Services and Western Psychological & Counseling Services.
With the qualified staff, the center is able to offer a mentorship program to Benson students wanting a career in health care, as well as fulfilling requirements for the OHSU residents.
The center offers a variety of on-site services to students like sports physicals, mental health care and general health screenings like tuberculosis tests. Health insurance is not required to receive assistance.
Spanning 1,400 square feet and decorated with donated and refurbished furniture, the wellness center was designed to fuse mental, medical and behavioral health visits into one convenient location for students that are in need financially as well as those students enrolled in physical Education, health and career tech education courses.
Students have additional access to the wellness center during their PE and health class time. Class curriculum in those subjects has also expanded to include health literacy.
The medical and mental health care providers are also available part time to aid the school's athletic trainer, school nurse Laurel Merz and social worker Caroline Bleckmann.
School officials are expecting an increase in preventative health screenings for teens because of the center, as well as fewer classroom disruptions caused by behavioral issues related to health, and a decrease in student absence due to illness. A report found that about 31 percent of Benson students have missed school in the past for medical reasons.
Funding for the center was provided by Portland Public Schools, CareOregon, FamilyCare, Kaiser Permanente and specific alignment with OHSU Family Medicine's Richmond Clinic.
Additional services for the center are slated to be incorporated within the next two years, hoping to reach another 2,600 students with summer school and evening programs.