Community Leader Led Impactful Life
Joice Taylor
5/25/2016, 11:29 a.m.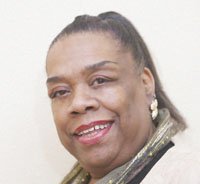 Joice Antoinette Taylor, 66, a longtime Portland community leader and role model, passed away on May 18, 2016.
She was born Joyce Johnson on Dec. 17, 1949 in Portsmouth, Va., the youngest of six children born to Linwood Bernard Johnson and Ethel Lee Johnson. She was educated at Holy Child Academy High School in Portland.
Art and culture were a mainstay in her world starting early in life when she was trained as a child in ballet and tap. As a young woman, she traveled to New York, Washington and Canada as a professional model before returning to Portland to start a model and talent agency.
Her passions in the community centered around health and social justice, youth development, building networks, and creating safe stable neighborhoods with affordable housing and entrepreneurship.
She had more than 25 years of professional experience with the Portland School District with duties that included consulting, training and strategic planning. Education was of utmost importance to her and she made sure that all of her family members also strived to become lifelong learners.
Even late in life, she return to school to earn a college degree in international business from Marylhurst University in 1995 and then she pursued masters' level coursework in communications at Portland State University.
She last served as chief executive officer and president of Global Management Strategies, and was a partner with the Rural and Urban Development League. She also shared her expertise with local, city, state economic development leaders and racial equity organizations, small businesses, non-profits, and corporations.
She served as Board Chair of the North/Northeast Business Association from 2008 until she retired this year. On April 28, the association honored her with a Neil Kelly Distinguished Service Award, celebrating her business excellence and community achievement.
She is survived by her children, Gaylon Michael Taylor, Aunice Martoinette Taylor, and Bakari-Ajamu Taylor Rhodes; sisters, Linda Johnson and Barbra Daniels; brothers, James Johnson and Everett Johnson; and several grandchildren, great grandchild, nieces and nephews. She was predeceased by her brother Clarence Brooks.
A Homegoing Celebration will be held on Friday, May 27 at 2 p.m. at Emmanuel Temple, 1033 N. Sumner St. Doors will open at 1:30 p.m. with a reception to follow the service.
The family is respectfully asking for donations to help with the costs of the tribute service and for any unpaid healthcare costs. Contributions can be made to the Joice A. Taylor donation account No. 153694167849 in care of U.S. Bank.