Remembering Vanport
Weekend of events begin with proclamation
5/25/2016, 11:35 a.m.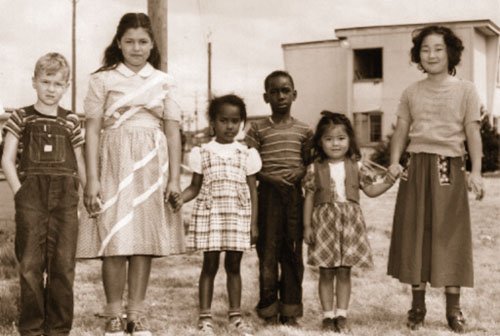 A proclamation by Mayor Hales and the City Council to remember the flood that destroyed Vanport, the lives lost and the people who survived, kicks off a Memorial Day weekend of events for the first Vanport Mosaic Festival, honoring the 68th anniversary of the tragedy.
The nation's largest public housing project, Oregon's second largest city and home to a large African American community, was destroyed on May 30, 1948 in a matter of few hours. 18,500 people were left homeless; official records say 15 people lost their lives, but some survivors believe the death toll was much higher.
Wednesday's proclamation will be shared again at the opening of the film Lost City, Living Memories: Vanport Through the Voices of its Residents on Saturday, May 28 at 6.30 p.m. at Vancouver Avenue First Baptist Church; and again on Monday, May 30 at 3 p.m. at Irvington Covenant Church.
The Vanport Mosaic Festival is a 4-day celebration commemorating the Vanport Flood held at various venues in north and northeast Portland.
Free screenings of the film Lost City, Living Memories: Vanport Through the Voice of its Residents are scheduled at First Baptist Church, the Interstate Firehouse Cultural Center and Irvington Covenant Church.
Cottonwood in the Flood, a fully-staged drama about the African-American experience in 1940s Oregon and the rapid rise - and even more rapid fall - of the city of Vanport, will open Thursday, May 26 and run through June 12 at the IFCC. Tickets are available through the box office. In conjunction with the play, a free exhibit Vanport: The Surge of Social Change, also at the IFCC, brings a collage of historic images and artifacts that unveil the multifaceted social life of Vanport.
An academic and free public conversation about the Vanport Flood, including scholars and community members, as well as artists, educators, and Vanport flood survivors, will take place on Saturday, May 28 at 1 p.m. at the Concordia University's Luther Hall auditorium.
Free Welcome Home to Vanport tours will be held on Monday, May 30 from 10 a.m. to 3 p.m. at the historic location of Vanport City. There will be two 5K self-guided walk and bike routes, and exhibits at Portland International Raceway.
For a full Vanport Mosaic Festival schedule, visit vanportmosaic.org.