Lofty Dreams and Aspirations
Jefferson student graduates to Juilliard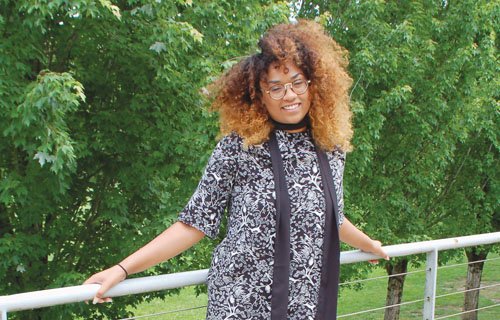 While most people aren't strangers to possessing lofty dreams and aspirations, many are estranged with the reality of achieving their passions. Such isn't the case for 18-year-old Jefferson High School student Sekai Abeni Edwards, who has just been accepted into the fall drama program at the prestigious Juilliard School in New York.
Born into a family of creative types, Sekai already has a wealth of experience and awards under her belt, like being named Youth Poet Laureate for Portland, earning the Young, Gifted and Black award from Portland Public Schools and performing in the arts on a regular basis since her third grade enrollment in the Portland Theatre Brigade.
"I would love to have a career in stage and independent film. Both are making a lot of strides right now, by starting to tell very interesting stories that I could actually be cast in, as opposed to 15 years ago when there weren't as many places for black women to be in unless it was the sidekick or the hooker on the story. There weren't very many stories about us, we were just characters of humans," says Sekai.
Her activeness in the realm of theatrics also led her to other facets of expression like dance and poetry, though her strong passion for drama and support from Self Enhancement, Inc. (SEI), the educational and family support organization serving Portland's black community.
SEI's Whole School Model mentorship program helped guide Sekai towards Juilliard, despite her feeling like she wouldn't get in.
There is a four-step application process for Juilliard, including three in-person auditions. With only about a seven percent acceptance rate into the school and Sekai's lack of a high school theater program to tout, her reservations were warranted.
Yet SEI wasn't going to let Sekai's talents go unnoticed. Enrolled with the non-profit organization since her freshman year, her abilities were recognized early by her teachers and mentors, according to SEI President and Chief Executive Officer Tony Hopson. SEI was more than happy to morally and financially support her efforts.
"The idea has always been to take our African American students in the community and get them to reach their full potential," says Anthony Deloney, the director of SEI's After School and Summer Programs. "But Sekai is so driven; she knows the things she's trying to do."
Jefferson is one of a few PPS institutions under SEI's wing and has so far seen a great deal of success with improving student outcomes, especially the 30 percent increase in Jefferson's graduation rates since SEI began offering their various support services like mentoring and tutoring.
"In our culture, a lot of people think 'what's the way you can be successful? Play basketball, be a rapper' -- basically all these things the media tells us we can be. But we've always said that life has options. That's our motto. There are so many things you can do to be successful, so many different avenues," says Deloney. "Whatever we can do, we want to jump in. The only thing we ask is that when you become that super celebrity that you come back and inspire that next generation of kids. That's how we've been able to do this for 35 years."