Oxygen Under Pressure
Therapy chamber first of its kind in Oregon
5/31/2016, 2:59 p.m.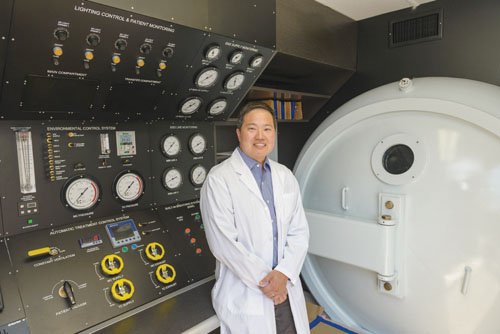 A new hyperbaric oxygen therapy chamber for multiple patients, the largest in Oregon has opened at Legacy Emanuel Medical Center in north Portland.
Hyperbaric oxygen therapy is one method used to treat difficult-to-heal wounds caused by diabetes, circulatory problems, radiation therapy and other conditions. The chamber can accommodate up to 12 patients at a time.

"Hyperbaric oxygen therapy is our newest option for treating wounds that don't heal with standard approaches," says Dr. Lori Morgan, Legacy Emanuel's chief administrative officer. "We offer excellent wound care services and this is just one more treatment option we can offer patients."

During the treatment, patients breathe pure oxygen within a pressurized chamber through a clear plastic hood or mask, in daily 90 minute sessions over 20-30 sessions.
"Oxygen under pressure acts like a drug when it dissolves into the blood," explains Dr. Enoch Huang, program medical director for Hyperbaric Medicine/Wound Healing for Legacy Emanuel and Oregon's only fellowship-trained, board certified hyperbaric physician.
"This helps speed cell repair and form new blood vessels, which in turn assists in the healing of wounds," Huang said. "Repeated exposure to pressurized oxygen gives a lifeline to ischemic tissue, boosts the effects of some antibiotics, activates white blood cells to fight certain infections, reduces tissue swelling, and promotes the healing process of specific chronic wounds."