Running for Election was an Amazing Experience
Proud of what we accomplished
Roberta Phillip-Robbins | 5/31/2016, 2:49 p.m.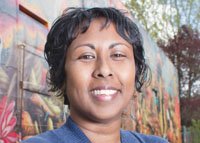 As most of you know I suspended my campaign on Friday (May 20) when it became clear that while the outcome of the race is still very close, the tide is turning in Tawna Sanchez's direction.
While we did not get the outcome we wanted, I am proud of what we accomplished.
I am grateful to each and every one of you for joining me in this race. Together we built a grassroots campaign with hundreds of volunteers, supporters, old friends, new friends, and my family.
To my husband, CJ; my daughter, Nina; my mom, my dad, and my siblings, thank you for your love and support.
I want to congratulate Tawna for a spirited contest. She deeply loves this community and has dedicated many years to improving the lives of young people and families.
In November, I launched this campaign for House District 43 because I want to help every Oregonian thrive. I want to address the challenges facing our community, including lack of affordable housing, creating more family-wage jobs, prioritizing education, and protecting the environment.
With your incredible support, we knocked on thousands of doors, walked hundreds of miles in the district, and called thousands more to learn about the issues that matter to them.
I am grateful to the neighbors who opened their homes to me and shared what would help make their lives better.
Campaigns such as this one are full of sacrifices. Missed meals with family, long days, and late nights on the phone.
Perhaps my greatest sacrifice came a couple of weeks ago when I had to resign from my position at Multnomah County in order to continue with this race because of a law prohibiting certain types of public employees from running for office.
There are already enough barriers for working people, we must address the policies that make it difficult for public employees to run and serve.
My work for our community is not done, and I look forward to my next chapter.
Again, thank you for all of your support. It means the world to me and my family.
Roberta Phillip-Robbins was a candidate in the May 17 Primary for state representative in House District 43 of inner north and northeast Portland.