Oregon Civil Rights Lawyer Sues
Discrimination claim rooted in racial profiling by white co-workers
11/1/2016, 4:52 p.m.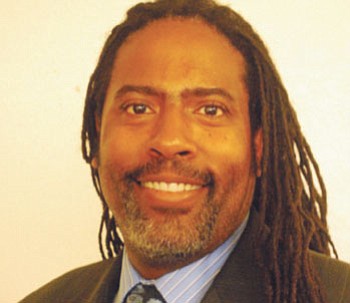 Oregon's top civil rights lawyer has filed a federal lawsuit against his boss and others in the state Department of Justice over allegations of racial profiling after learning that his colleagues surveilled his Twitter account because one of his posts turned up in a search for the Black Lives Matter hashtag.
Erious Johnson, the department's civil rights director, said in the Oct. 26 lawsuit that the January 2015 tweet included a picture of the logo of the hip-hop group Public Enemy. The logo depicts a black man in silhouette in the crosshairs of a gun, but a state investigator mistook the black man for a police officer and wrote to his supervisor that Johnson could be a threat to police, court papers say.
That mistake led Johnson's colleagues within the department to compile a report on him and comb through his Twitter posts — all without his knowledge and while he continued to work alongside them, according to the lawsuit filed in Eugene.
In a separate civil rights complaint filed with the state earlier this year, Johnson said the surveillance wouldn't have happened "had I not been a black male" and "had my Twitter activity involved matters other than the lives and experiences of black people."
"I have been subjected to racial discrimination and a hostile work environment for engaging in protected social media activity," Johnson wrote in his four-page complaint.
He also noted: "All of the individuals involved in perpetrating said racial discrimination and hostile work environment are Caucasian."
An outside investigation ordered by state Attorney General Ellen Rosenblum earlier this year found that the surveillance activity violated state law and department policies. Rosenblum is running for re-election on Nov. 8.
In a statement late Wednesday, spokeswoman Kristina Edmunson said Rosenblum considers Johnson a "valued member of her inner-circle staff" and had fired the state investigator who conducted the social media investigation.
Two other agency officials involved in the scandal have been replaced and anti-bias training will begin in a week, Edmunson said.
The incident began when the state investigator used a new computer program to search for social media posts in the Salem, Oregon area that included the hashtag Black Lives Matter and (expletive) the police.
The investigator had received the new program and was testing it out, said Johnson's civil rights attorney, Beth Creighton.
Johnson was only informed of the surveillance in October in a meeting with Rosenblum, who had become aware of the situation two weeks earlier and realized her investigators had overstepped.
"It's an incredible sense of betrayal. Now he's wondering what else they're looking into and who he can trust," said Creighton, his attorney. "It's a really important thing to be able to trust people when you're working in that kind of environment and advocating on civil rights issues in the state."
Johnson has continued to work at the state Department of Justice, Creighton said.
--Associated Press