Street Tree Survey Completed
Volunteers map health and diversity of plantings
11/1/2016, 4:42 p.m.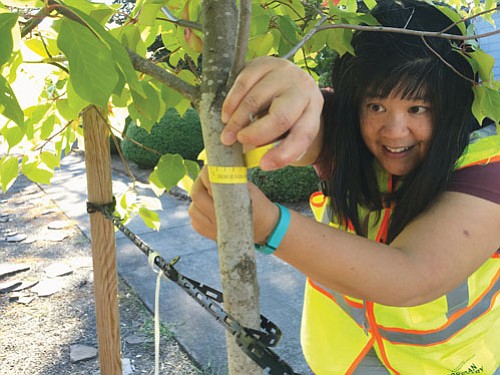 Portland Parks & Recreation Urban Forestry staff and more than 1,300 volunteers have surveyed and mapped nearly every planted street tree in Portland -- almost 220,000 in all, covering all 96 of the city's neighborhoods. The effort is key to help inform how PP&R manages Portland's urban forest going forward.
The trees, which are planted in the public rights-of-way, rather than on private property, have also been measured, identified, and each one's health rated as part of the city's first comprehensive inventory of street trees.
Findings from the tree inventory, which was completed in September, will be presented at the 2016 Tree Inventory Summit, a free public event this Saturday, Nov. 5, from 8:30 a.m. to 3:30 p.m. at the Mt. Scott Community Center, 5530 S.E. 72nd Ave.
"Trees are a vital part of our city," says Portland Parks Commissioner Amanda Fritz. "They improve our health by cleaning the air we breathe and reducing summer heat impacts, provide habitat for wildlife, and make our neighborhoods more walkable and beautiful. I am pleased that the Urban Forestry staff and our valued volunteers worked so hard on the Street Tree Inventory. Their work will help inform and guide stewardship of this valuable public asset."
Workers and volunteers spent approximately 17,000 hours on the project from 2010 through September 2016. Reports for individual neighborhoods are already available on Urban Forestry's web page. Residents are encouraged to check-out the information for their local street trees.
Preliminary findings from the survey have already been influencing the city's tree-related policies. For example, Portland is vulnerable to significant tree losses from pests and diseases as a result of a very high count of maple trees along city streets. Urban Forestry now requires property owners to plant alternative species when replacing and planting new street trees.
Also, given the low percentage of evergreen trees being planted, Urban Forestry has increased the number of evergreens on its approved planting lists from a handful to more than 20, and is encouraging evergreen planting.