Trump Protest Turns Violent
Peaceful demonstration gets out of hand with anarchists
11/11/2016, 9:47 a.m.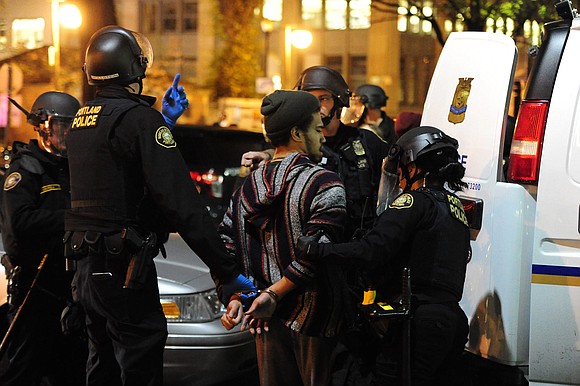 A protest against Donald Trump's victory in the presidential election turned into a riot in downtown Portland late Thursday, culminating with officers firing rubber baton rounds and arresting at least 29 people who refused to disperse after some protesters smashed windows, spray-painted buildings and ignited a dumpster fire.
Police blamed much of the violence on anarchists who joined peaceful protesters.
Authorities said they would later have a complete update on arrests, charges and photos related to the hours-long incident, which started peacefully Thursday with demonstrations by about 4,000 people.
The president-elect fired back on Twitter.
Trump tweeted Thursday night, "Just had a very open and successful presidential election. Now professional protesters, incited by the media, are protesting. Very unfair!"
Friday morning, he turned to Twitter again to say "Love the fact that the small groups of protesters last night have passion for our great country. We will all come together and be proud!"
Portland police declared a riot after "extensive criminal and dangerous behavior," police said. By late Thursday authorities were calling the disturbance an unlawful assembly as repeated orders to disperse were ignored.
Police said officers used "less lethal munitions" in order to make arrests and move the crowd. By 11 p.m. police estimated the number of marchers at about 1,500; by midnight crowds were thinning and splintering off.
Multiple media outlets livestreamed the scene as rioters threw glass bottles and a trash can toward officers while yelling at them. The livestreams also showed officers firing rubber baton rounds and dispensing pepper spray at the group. Police tweeted that officers "deployed less lethal munitions such as OC spray and vapor (pepper spray), rubber ball distraction devices, rubber baton rounds."
Officers took several protesters to the ground and arrested them, livestream video showed. Police had advised on Twitter that those arrested could face felony riot charges.
What started as a peaceful demonstration took a forceful turn when some protesters caused significant damage to vehicles at the Toyota car dealership on North Broadway, police said. News video showed some protesters also used rocks and baseball bats to smash the windows of businesses and start small fires as they moved through the city's Pearl District, a showcase neighborhood and site of many boutiques and art galleries.
Another video showed an altercation after a woman threw laundry detergent at protesters.
At 10 p.m. Thursday, police told protesters who had not returned to Pioneer Courthouse Square that they were under arrest. Police had previously told people who wanted to continue peacefully demonstrating to head back to the square. Media outlets showed at least one woman who appeared handcuffed walking away with officers while other protesters appeared to scatter.
A crowd soon after continued marching through the streets.
Oregon Department of Transportation officials closed portions of Interstate 5 and Interstate 84 in the area intermittently as a precaution. Officials urged travelers to watch for people in unexpected places on roads.
Portland Mayor Charlie Hales said earlier in the day that he supports peaceful protest by people exercising their constitutional rights, but he cautioned that walking on to freeways and blocking light rail lines is dangerous for everyone involved.
--Associated Press