Oldest Portland Veteran Remembered
Ural Ollison
11/22/2016, 2:50 p.m.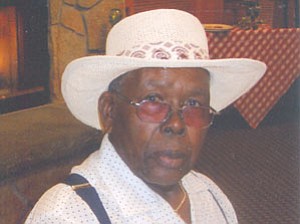 Ural Ollison, the oldest black veteran in Portland, passed away on Nov. 20, 2016 in his home of natural causes. He was 102 years old and lived a great life.
He was born Aug. 29, 1914 in Fordyce, Ark., to the union of Wiley and Birdie Lee Ollison. He was the baby of the family with his older brother Otis Lee and sister Lillie Mae and half brother Roma, all who preceded him in death.
He leaves to mourn his memory, a daughter Patricia Ford; grandson Deshaden Smith; two great grandchildren, Denina and Dekaira Smith; and a step grandson Sentonio Barber, who all reside in Portland; two special nieces Ithema Gaines Tarpley and Janice Cossette Richards; and a host of cousins, extended family and friends.
Services will be held on Tuesday, Nov. 29 at 10 a.m. at Morning Star Baptist church; 4927 N.E. 55th Ave.