Construction begins on PDC-backed project
Alberta Commons to bring economic benefits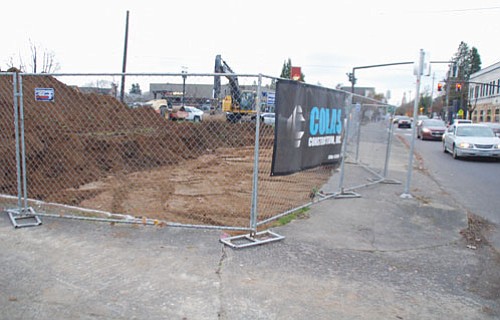 Construction has begun on Alberta Commons, a Portland Development Commission backed project to bring economic benefits to the heart of the historic black community at Northeast Martin Luther King Jr. Boulevard and Alberta Street.
Rising up from the long vacant site will be a Natural Grocers market, a quality, affordable and organic grocery retail chain which is the primary business anchor, along with additional retail space for local, minority-owned businesses that complements the local businesses to the south at Vanport Square, providing needed goods and services to the community.
PDC will be owner for 50 percent of the non-anchor space to provide discounted commercial space to local, minority-owned businesses. Colas Construction, an African-American, family-owned business, is the general contractor for the project, and Majestic Realty of Los Angeles is the developer.
According to PDC officials, Colas Construction is now finalizing contracts with subcontractors, and anticipates achieving 55 percent participation by minority, women and emerging small business firms, with 41 percent of that workforce employed by minority business enterprises.
The project also carries a public art element. Local artists Mehran Heard and Arvie Smith have been selected for the installation of public art along the east and south walls of the Natural Grocers building.