Jumping into the Fire
Sharing the story of black paratroopers in Oregon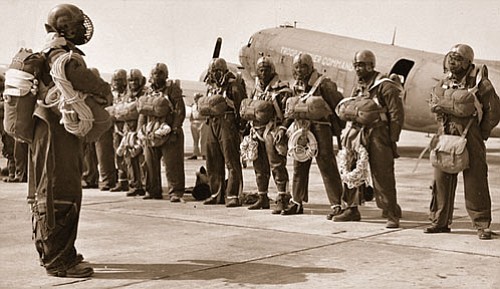 In 1945, an elite unit of the Army's best trained paratroopers arrived at Pendleton Field in Oregon as part of a highly classified mission, Operation Firefly.
The all-black unit spent the next several months jumping and fighting forest fires throughout the Pacific Northwest. Called the "Triple Nickles," the 555th Parachute Infantry group gained military fame for their work as firefighters.
The unit's unique story of patriotism, race and service will be shared during a free and open "history pub" series event at McMenamins Kenendy School in northeast Portland. The presentation, on Monday, Nov. 28 at 7 p.m., will be led Robert Bartlett, a Vietnam War veteran and son of Walter Bartlett Sr., who served in the Amy Air Corps during the World War II period.
Robert Bartlett has 30 years of teaching experience and is a senior lecturer at Eastern Washington University.