Brothers of Color
Lincoln forms diverse group to build community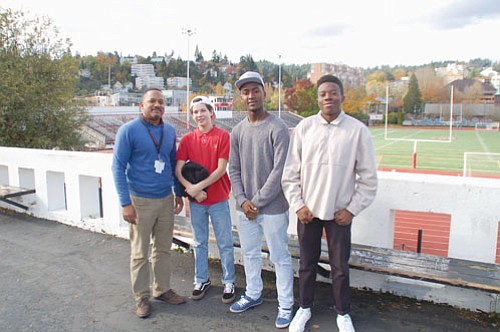 Minority students at Lincoln High School, the most ethnically barren of Portland's major high school campuses, have banded together to form a club tailored to create and support their own sense of community.
It was around Thanksgiving last year when black and other minority male students at the school started their Brothers of Color organization by reaching out to the less than one percent of African American students and a little over seven percent of Hispanic students enrolled at the downtown, southwest Portland campus.
Lincoln already had a Black Student Union, but the students involved wanted something a bit more specific to their needs. Counselor James McGee heard their words and helped the Brothers of Color group to become a reality.
"What I appreciate most is that within our black and Latino students we are able to build community, that's so important," says McGee. "They need to have that place where they can be themselves without anyone judging."
McGee began his career with the Portland School District at north Portland's predominately black Jefferson High School, so the stark contrast in diversity across town was fairly jarring to him. As the only counselor of color at Lincoln, minority students flock to him for guidance, advice and influence.
"One of the benefits of the club is that it gives the boys a place to decompress, discuss, and debate when challenging situations occur within our school community, locally, and nationally," says McGee. "Though the conversations can get heated at times, the boys enter them Brothers of Color and leave them Brothers of Color."
The club meets a few times a month for discussions, field trips, and social justice and philanthropic endeavors. They've attended police reform forums, mayoral debates, and plays that convey racial challenging themes like "All Hands Up." The participants also work as mentors of young students at King Elementary School in northeast Portland, and they'll soon begin working with students at West Sylvan Middle School, which is considered a feeder school into Lincoln.
Brothers of Color at Lincoln have even carried racial justice issues forward as members of the school's football team, taking a knee during the National Anthem at some recent games, aligning with the protests by San Francisco 49ers quarterback Colin Kaepernick.
During a recent discussion, members of the organization opened up about what they deemed as "internalized discrimination," or the sort of racism and classism that occurs within one particular race.
One student, for example, shared how some don't believe he's of a Latino background because his parents "don't work in a field," while another spoke on how some black students have tried stripping him of his racial identity by referring to him as "white" due to his good grades.
McGee was able to relate, sharing with them a story of how some of his former colleagues thought of him as a racial "sellout" for working at Lincoln because it's reputation as a "rich, white school," similar to the sort of classist bias students have experienced at other schools.
"When the kids say to me that people outside of Lincoln stereotype them, I get it," McGee says. "Some of them live across the bridge. Some of them live around here and some of them live up in the hills, but whenever they're in a car with their dark skin and get pulled over, they're just another black male."
He describes each of his students as having diverse interests and thoughts," We try not to fall into the trap of thinking 'when you see one male of color, you've seen them all.'"

An offshoot of Brothers of Color has also developed in the last year for the school's minority females named Sisters of Color, based on the same guidelines of garnering a safe community at Lincoln.