Following Where Love Led Them
Movie about historic interracial couple shows a path forward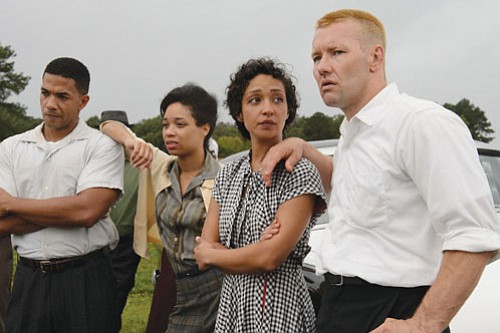 It somehow does not feel accidental to me that the couple whose marriage was the basis for the 1967 Supreme Court decision that declared unconstitutional the laws against interracial marriage bore the name "Loving." I suspect that heaven was involved, and that the white boy born in rural Virginia as Richard Loving was destined to fall in love with Mildred Jeter, the gentle woman of African-American and Native American heritage who became his wife in 1958, when such a marriage was a felony punishable by prison time.

By all accounts, these were simple folks, not gifted strategists or rhetoricians. What equipped them to challenge successfully one of the most insidious and intransigent aspects of legalized overt white supremacy?

Their young ACLU lawyers found the legal strategy, to be sure. But a new film that bears the couple's name, "Loving," quietly demonstrates that Mildred and Richard Loving derived the necessary clarity simply from loving one another, and from following where that love led them. Focusing less on the legal drama and more on how these two unassuming young people experienced their decade-long-struggle for the right to live as a couple in their home state, director Jeff Nichols tenderly shows us what their love looked like. The attacks against it seem so outrageous now -- yet withstanding those attacks required commitment far more unswerving than rhetoric can muster. Plainly, love was the ingredient most essential to necessary transformation and social change.
In 1958, 16 states still carried anti-miscegenation laws, and a Gallup poll indicated that 94 percent of white Americans still disapproved of interracial marriage. (Oregon finally repealed its law against interracial marriage in 1951, but was hardly progressive; Oregon did not ratify the Fifteenth and Fourteenth Amendments until 1959 and 1973, respectively.) Undertaking marriage was, for the Lovings, a radical act, though there is little sign that they approached it with that sort of awareness. She was 19, he 25, and they both grew up in a poor, rural community where some amount of mixing apparently was happening underground. They did not mean to challenge anyone -- but their quiet reach for legitimacy clearly was an affront to what were ironically experienced as values in the broader culture.
Nichols' film took its inspiration from an excellent 2011 HBO documentary, "The Loving Story" -- worth watching as a companion to the feature film. Neither film contains any speeches or theorizing; the Lovings are themselves the best way in to the story.
Nichols nicely depicts how the culture of white supremacy is reinforced -- with directives to and from the white community, but with punishments doled out disproportionately to people of color. When the couple is arrested in their bedroom in the middle of the night, Richard is asked what he is doing with Mildred, who answers that she is his wife. Both are taken to jail, but Richard is not allowed to bail out pregnant Mildred after his sister quickly posts his bail. Mildred instead spends several additional days in jail, alone and frightened.