Following Where Love Led Them
Movie about historic interracial couple shows a path forward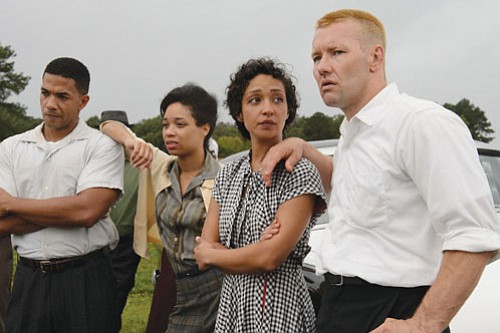 Richard's mother likes Mildred well enough, but doesn't defend the marriage; in her mind, Richard is to blame for the couple's troubles because he "knew better." One senses that, had Richard just taken Mildred, as his privilege would have allowed, and kept the relationship out of sight, nothing might have happened -- and indeed, a black character suggests after their convictions that Richard can solve his problems by simply divorcing Mildred, even if he wishes to continue cohabiting with her.
Taciturn Richard's loyalty to and love for Mildred is conveyed not with verbal explanation, but with his steady focus on providing for her and with the ease of their physical connection. The couple finds acceptance mainly in the black community, where Richard moves about with facility. Richard clearly fits the mold of the Southern white man, as unlikely a hero as one could imagine; Australian actor Joel Edgerton captures his resolve and his clarity, even as he hangs back in interactions with lawyers and the press. He avoids public appearances and the courtroom, but instructs his lawyer to "Tell the judge I love my wife."
While Richard focuses on keeping the family safe and providing for them, quiet Mildred is the clear driver of the legal struggle. She carries in her bones two of the most oppressed cultures in American history, yet watches the events of the Civil Rights Movement on her television set as she raises her three young children. What drives her, finally, is homesickness; Ruth Negga, a revelation as Mildred, conveys the resignation and longing that builds in her during the years the couple spend in Washington, D.C., far from their rural home. Mildred finally wrote to Attorney General Robert Kennedy seeking assistance in 1963. He referred her to the ACLU, and two young men new to legal practice handled the case. At several points, it is obvious that Richard would not have pursued this route, and Mildred must gently persuade him. It is she who dares to hope, as well; after their loss in the state appellate court, she tells the press that she feels hope: "We may lose the small battles, but win the big war."
Then it's back to ironing, and wrangling her children. We need stories like these, and director Nichols has found the right way to tell this one. As depicted here, just as in the documentary, Mildred and Richard show us the way forward; they know who they are, and they keep moving onward, living their truth, and loving.
Darleen Ortega is a judge on the Oregon Court of Appeals and the first woman of color to serve in that capacity. Her movie review column Opinionated Judge appears regularly in The Portland Observer. Find her movie blog at opinionatedjudge.blogspot.com.