Bison Coffeehouse Stands Out
Business venture starts with a dream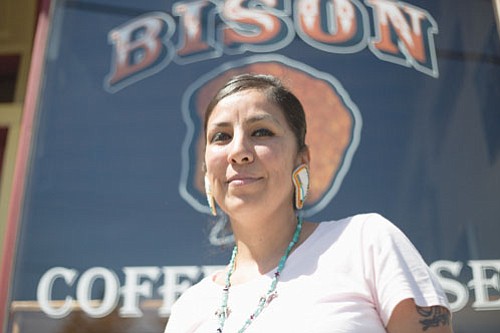 Bison Coffeehouse stands out among the other caffeinated establishments in town not only for its delicious coffee and treats, but also because of its cultural background. The coffee shop, owned by Loretta Guzman, a native Portlander and member of the Shoshone Bannock Tribes in Fort Hall, Idaho, fully represents her heritage.
Guzman's business inspiration came out of a very tragic time. She was diagnosed with stage 4b cancer in 2008, and then endured aggressive chemo and radiation with the help of her family and the Shoshone Bannock Tribes.
A dream Guzman had during treatment sparked the coffee shop's premise. In her dream, she saw a large bison coming towards her. They eventually came face to face in the dream, where they intensely stared at one another. Upon waking up from the dream, Guzman described it to her stepfather who said it was a sign of her condition getting better and soon after, her cancer went into remission.
Once she was fully recovered she returned to work at café operated for her mentor, Kibby Riedman, as well as returning to school. It was Riedman that connected her with Heart Coffee, a local coffee roaster that Guzman now carries at her own coffee shop.
Bison Coffeehouse is adorned with art made with Native artists from all over the country. She also serves Tribal Grounds coffee, which is based in North Carolina and also served in the Smithsonian Museum of the American Indian in Washington, D.C. Buffalo jerky made by her tribe, Sho-Ban, also gives authentic Native American history to the establishment.
Bison Coffeehouse is located at 3941 N.E. Cully Blvd. For inquiries call 503-288-3941.