Chef Grows Recipe into Best Eats Venue
Dubs St. Johns serves customers and community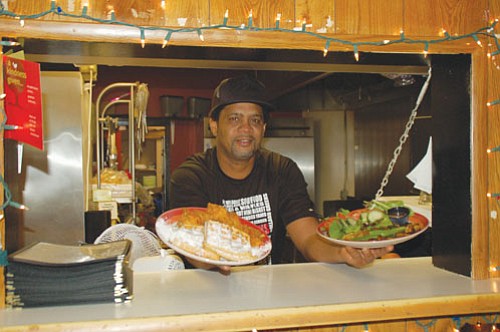 Those that have called Portland home for awhile likely remember the old Northeast Martin Luther King Boulevard staple Mack and Dub's, best known for their chicken and waffles. After a fire shut down the restaurant, half of the culinary team behind the establishment, brought the renowned recipe even further up north, to open Dub's in the St. Johns neighborhood.
The new location serves everything from brisket, to catfish, to cheesecake, while also being able to accommodate vegetarian diets and vegan ones upon request.
"The menu is made of things that I grew up eating or would fix for myself at home," says Dub.
The venture has led to an award-winning establishment, honored as one of Willamette Week's best cheap eats, and a growing source for catering opportunities. According to Dub, they cater quite a few times a week, anywhere from 15 to 200 people for private events, from bigger companies like Occidental Brewing to smaller group events from the Mayor's office.
Dub's is located inside one of the oldest longshore bars in Portland, the Ranger Tavern. Its close location to the ports brings in many of the workers whose livelihood depends on the waterfront, not to mention Dub's support of the International Longshore and Warehouse Union. Since the location is outside St. Johns' downtown business district, Dub feels his recipes have surpassed distance, making his restaurant a true destination point.
On top of being the predominate chef at Dub's, the father of three is also a musician (as one half of the duo Mack & Dub) as well as a caring philanthropist.
"I'm all about seeing the next generation succeed. I just want to be a role model for that, especially all the violence that's happening within the community," says Dub. "I feel the kids don't see a future or a value in nature or the world, so I try to reach out to people on an individual basis."
Last year, Dub fundraised for Sitton Elementary School and was able to buy the 4th, 5th and 6th grade boys and girls basketball team uniforms, as well as the junior varsity and varsity cheerleading squad uniforms for Roosevelt High School.
Having attended Jefferson High himself, Dub soon plans on working with them, but his main focus is spreading positivity and encouragement to local youth.
"I want them to know that I'm here to talk. I'm here to inspire, to coach, to give them a hug. Whatever they need," says Dub. "I'm here to show them how to be an entrepreneur, how to make it through the hard times and still be giving and thankful for what they have."
If you've got craving for some hearty chicken and waffles or some catfish, visit Dub's at 9520 N. Lombard. Dub is almost always in the kitchen and almost always down for a chat, so feel free to say hello to him.
"It's really important to me to be a role model for both men and women. All of this is my neighborhood. Portland is just my town."