Entrepreneur Inspired by Sneaker Culture
Establishes Deadstock Coffee after work at Nike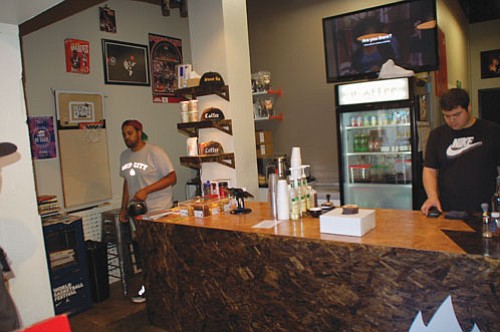 The caffeinated buzz around Ian Williams and his new business endeavor, a sneaker-themed coffee shop named Deadstock Coffee, is more than warranted. The young and creative entrepreneur, inspired by one of black culture's most prized aesthetic apparel possessions, followed his impresario path from start to finish.
As a child, Williams' love for sneakers surpassed his family's financial means, but that didn't stop him from pulling inspiration from his favorite facet of attire. Sketches and illustrations of his dream sneaker creations paid off in the long run.
Using his warm and welcoming personality, Williams networked his way from working as a janitor at the Nike airbag factory to designing shoes for them. After three years of conversing with Nike bigwigs as he cleaned up around the factory, Williams pitched one of his designs to the company.
The "Wet Floor" sneaker, inspired by the brightly hued signs he posted around the factory after mopping, was the yellow high top that started it all. But Williams spent five years making sneaker designs before leaving in pursuit of a more diverse, communal business venture.
In his mind, coffee shops are the ultimate hub of building relationships and community. Though breaking into Portland's elite coffee world was more difficult than presently thought, Williams prevailed and Deadstock Coffee opened in Chinatown in February of this year.
Deadstock is like the Cheers bar of coffee, where anyone from any background can come and feel welcomed. Shows like "A Different World" play on the television displayed above the coffee bar, nestled in between walls adorned with sneakers and funky art.
The shop carries coffee from Dapper & Wise Roasters in Hillsboro as well as chocolate and syrup flavors from Portland company Holy Kakow. On top of getting a killer cup of coffee, you can also get your sneakers cleaned up and detailed. Talk about premium service!
Deadstock Coffee is located at 408 N.W. Couch St. For hours or more information on sneakers, visit deadstockcoffee.com or call 971-506-5903.