Mural Artist Rises to Top of Profession
Race and culture rooted in Arvie Smith's works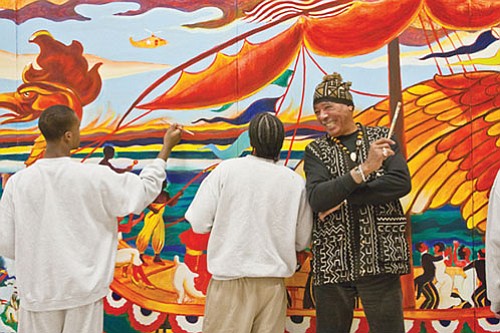 Full time Portland artist and social justice advocate Arvie Smith uses his creative skill in painting to translate his heritage and racially-based social constructs into beautiful works of art.
Born in 1938, Smith lived with his grandparents and great grandmother, a former slave, in the Jim Crow South, and pulls inspiration from his childhood home as well as the racially-based riots he witnessed following his relocation to Watts in south central Los Angeles.
Smith's works depict various facets of historical African American strife-ridden culture, like Ku Klux Klan lynchings ("Strange Fruit," 1992), the journey of black slaves on ships to the United States ("Trail of Tears," 2006) and even a redux of the infamous Edvard Munch work "The Scream," featuring a characterization of the original Buckwheat from the Little Rascals (We Be Lovin' It, 2009).
Using vivid colors and smooth, continuous brush strokes reminiscent of 18th century French painters and Baroque styling, Smith fearlessly tackles taboo topics like the intimate relationships between whites and persons of color by portraying females as sexualized objects, much like they were during slave times.
Smith has had his work shown in many of the world's top cities for art, among them New York, New Orleans and Florence, Italy. As the Professor Emeritus of Painting at Pacific Northwest College of Art as well as teaching the subject at the Oregon College of Arts and Crafts, and University of Oregon, Smith has cultivated creative outputs for countless of students and other youth and even immortalized his connection to justice through mural art.
For two years, Smith worked with men and women being held in pre-trial detention under Measure 11 crimes at the Donald E. Long Juvenile Center to create five murals for a Multnomah County art collection called Project Hope. The works are in part based on the youth's interpretations but also rely on Smith's analysis of conversations he had with the young prisoners. Multnomah County Courthouse houses four of these 8 by 15 foot murals and another is located in the detention center.
Smith is set to begin another community mural project on the future home of a Natural Foods Market which is slated for construction later this year at the intersection of Northeast Alberta Street and Martin Luther King Boulevard.