Visionary Idea Now Business Reality
Entrepreneur brings life to Ankeny Square
10/3/2016, 2:14 p.m.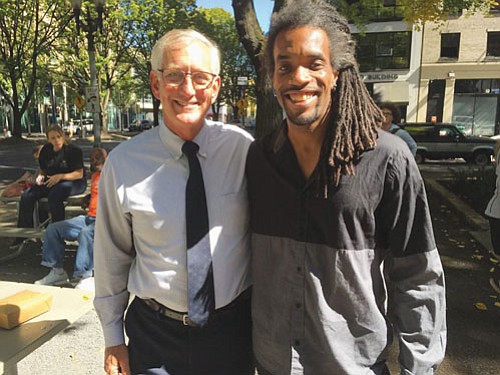 Grubbin', a food cart, arts and music endeavor created by Portland's Jamal Gardner, is now active at Ankeny Square in the North Park Blocks at Southwest Ankeny and Burnside.
Portland Parks & Recreation chose Gardner's proposal out of 15 visionary and competitive ideas to create a welcoming presence at the previously under-utilized park space, and to help enhance the entire area.
Grubbin' offers daily food carts and regular arts and music offerings at the square.
"It is wonderful to see a young entrepreneur's vision come to life, and even better when it dovetails with the needs of our City and parks system," says Portland Parks & Recreation Director Mike Abbaté. "When there are desirable, family-friendly activities happening in a park, our experience has clearly shown that the surrounding neighborhood benefits."
Gardner says the idea of Grubbin' came from his desire to create a one-stop shop for family-friendly, multicultural food and art.
"It's my hope this will prove to be a mutually beneficial relationship between Grubbin' and our clients, neighbors and businesses, and the city," he said.