Pushed from the Agenda
Mayor's labor deal with police draws opposition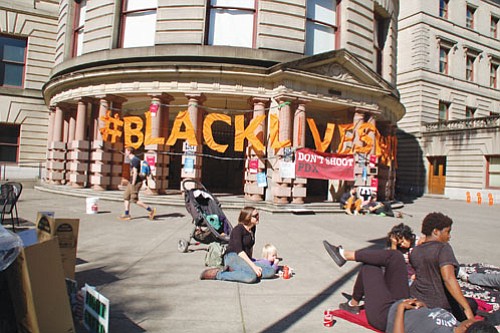 Advocates for police reforms to empower civil rights against racial profiling and other unjust police practices have joined together to stop, at least temporarily, Mayor Charlie Hales from getting approval of a new labor contract for members of the Portland Police Bureau.
"You serve the community first, and then you serve the police second," activist Jamaal Washington told Mayor Hales and members of the Portland City Council last week. "We are not subjects, we are citizens and our voices are supposed to mean something."
Williams is among a large group of protestors, including members of Black Lives Matter and Don't Shoot PDX who camped outside of City Hall last week, that pledge to continue to protest at the front doors of city government over a police contract they say rewards police officers financially without making the streets safer for minority and disadvantaged residents.
The current Portland Police Association contract doesn't expire until June 17, six months after Hales' term as mayor is over, leaving many to wonder why the rush. Some of the activists said the next labor agreement with police officers should be negotiated with incoming Mayor Ted Wheeler, who doesn't take office until January.
"Where is the fire?" Portland NAACP President Jo Ann Hardesty said, calling the contract Hales submitted as one that reflects a narrow focus on giving raises and not taking in the will or voice of the community.
The proposed labor agreement boasts a nine percent raise overall for police officers over the next three years, a bonus fee for recruiting new officers, a higher starting pay for new officers, and gives retired officers who come back to duty for six years the highest pay grade available.
"We're against this because essentially they're going to be paying more for maniac cops to come in and kill us," said Danielle James, a local mother who also said her daughter was assaulted by a Portland Police officer after being racially profiled. "These cops don't know our children; they don't know that this 14-year-old black kid walking with a hoodie and sweatpants is actually an Ivy League student that didn't just rob a store."
James argued it's not in the best interest of the community to have more officers on the streets if the police that are on duty are not adequately prepared in the way they deal with members of the black community and other minority populations.
She called for a contract that expands psychological evaluations for police currently on the job and weeds out cops who may not be good for the profession, providing as an example, a person bullied throughout life who becomes a cop and holds a superiority complex over the residents they serve.
James' brother Maqueal, from his standpoint as someone who witnessed the Rodney King riots in Los Angeles, said of Portland's police and community interactions, "We don't get any peaceful sleep because we know we have to wake up and deal with the same old mess on our plate."
Another issue that riled up the activist citizens was a proposed policy on body camera footage that would allow officers to review the video prior to writing incident reports. Hales accepted the terms in private negotiations with the union, going outside a pledge he made to allow the public to weigh in on the contract, the advocates said.