Pushed from the Agenda
Mayor's labor deal with police draws opposition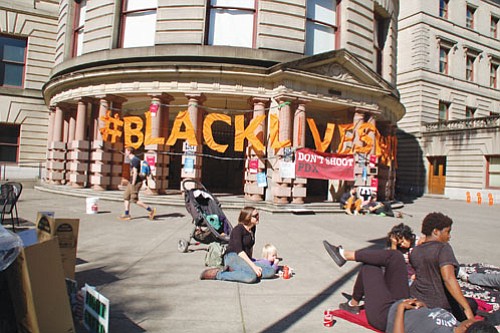 Talks between Hales and the activists broke down last week after the mayor suddenly moved a scheduled meeting between the groups from City Hall to the Vancouver Avenue First Baptist Church, a historically black congregation in north Portland.
The lack of enthusiasm for the contract continued the following Wednesday during a City Council meeting.
The mayor amended the body camera proposal to say "substantial public input will be required prior to finalization of the policy," but verbiage stating the police union still has the final decision on video viewing hadn't changed, drew widespread condemnation from the activists.
Many approached the podium with heated words for the mayor and city commissioners. Comments by David Kif Davis of Multnomah County Copwatch led to Hales storming out of the chambers, leaving the audience in the dark for around 20 minutes.
With much of the public's testimony being not having enough time to read and fully comprehend the contract, Hales finally decided to postpone the council's vote for at least until Oct. 13. He also agreed to open this week's agenda for more discussion on the issues.
"You're just pretending to listen to us," McKelvey said at the podium. "We all know what you're going to do once this meeting is over."
Nevertheless, the activists saw triumph in the delay.
"We view this as a victory for our movement, says McKelvey. "We have won the battle but the war is still to come."
Monday, Hales issued a statement saying there was understandable confusion about the collective bargaining agreement and offered to address the concerns.
He said the agreement was needed to fill officer vacancies and that it reinforces accountability and transparency in the Police Bureau. He also asked residents to read the contract on the City Auditor's website along with a draft proposal on police using body worn cameras.