Strip Club Murder Confession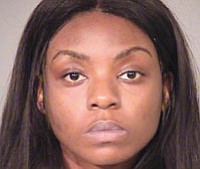 A 23-year-old woman accused of fatally stabbing another woman at a northeast Portland strip club has pled guilty to murder.
Back in June, Rinita Linelle Lowe fled a bloody scene at the Skinn Gentleman Club, 4523 N.E. 60th Ave., and went inside a nearby convenience store where police officers on break arrested her immediately. She has been held at Multnomah County Detention Center since.
New court documents show variations in Lowe's original story, wherein she first claimed the victim, Shantina Turner, 29, initiated a dispute with her. Now she says the knife used in the attack was not given to her for protection during the altercation, as she previously claimed, and admits that the stabbing took place inside the club, not outside as originally reported.
The documents show that witness testimony and security footage reveal Lowe approached Turner at the bar, punched her first, and quickly pulled the knife out of her purse, stabbing Turner at the bar as security guards tried to pull the fight apart.
Turner died at the scene of three sharply forced injuries to her neck, her autopsy shows.