Natural Foods Plans Approved
Project will be low scale development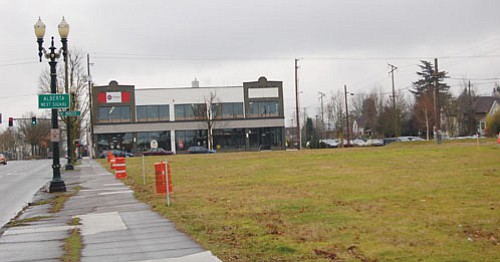 The King Neighborhood has learned that the Natural Grocers project coming to Northeast Alberta Street and Martin Luther King Jr. Boulevard will be a single-story retail strip mall project, bucking the zoning of higher density projects with multiple stories in other parts of their neighborhood and the inner city.
The Bureau of Development Services last month approved building permits by the Portland Development Commission to construct a one-story, 16,550 square foot building to accommodate Natural Grocers and an 8,400 square foot single story-space for three to five small retail tenants. The plans also call for 90 surface parking stalls and a 336 square foot trash enclosure.
There are no plans for building affordable housing on the one block parcel, something activists in the African American community sought when the plans to build a Trader Joe's grocery store on the site collapsed more than two years ago amid community opposition. But as a consequence, Mayor Hales did increase city funding for affordable housing for inner north and northeast Portland.
The project does meet PDC's goals of improving employment opportunities in disadvantaged and minority neighborhoods as well as providing a full service grocery with healthy food options, one of the goals of the King Neighborhood.
Bringing Natural Grocers to the site was subsidized with $2.4 million from the PDC in the form of a discount on the land value. Majestic Realty of Redlands, Calif., a large privately-held company, is the developer. The general contractor will be Colas Construction, a black-owned business from northeast Portland.