New Kwanzaa Stamp Issued
10/11/2016, 4:37 p.m.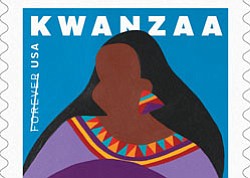 The U.S. Postal Service continues its tradition of celebrating Kwanzaa with a new 2016 Forever stamp.
Kwanzaa takes place over seven days from Dec. 26 to Jan. 1, drawing on African traditions to bring family, community and culture together.
The new Kwanza stamp features a woman holding a bowl that overflows with fruits and vegetables, symbolizing the abundance of African first harvest celebrations that inspired the creation of Kwanzaa in 1966.
Kwanzaa derives its name from the phrase "first fruits" in Swahili, a widely spoken African language. It has its origins in first harvest celebrations that occurred across the African continent in ancient and modern times. Kwanzaa synthesizes and reinvents these tribal traditions as a contemporary celebration of African-American culture.
This is the sixth Kwanzaa stamp issued by the Postal Service. The first was distributed in 1997.