New roots for legacy clinic
Move to Alberta keeps focus on underserved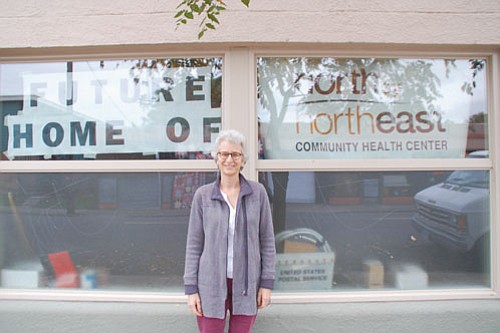 North by Northeast Community Health Center (NxNE) has been a lifeline for minority and disadvantaged populations since its inception by a Kaiser Permanente doctor and African American pastor over a decade ago. On Oct. 17 the free and low-cost clinic will have a new home that thankfully will still be located in the heart of the community it serves.
"We knew we were going to have to move and we had been planning it for awhile," says Dr. Jill Ginsberg, the medical director and co-founder of NxNE. "It was a great opportunity to think about what we want this new space to be, how much space we need, what we can afford and where it should be."
The new location will open at 714 N.E. Alberta St., just a few blocks from the clinic's current location at 3030 NE Martin Luther King Jr. Blvd., a site being redeveloped by Cascadia Behavioral Healthcare to accommodate new affordable housing and upgrade its mental health services with a new ground floor clinic. Faced with the impending move, NxNE turned to the community to help decide where their next location should be.
"There was a very clear agreement that people wanted us to stay in the neighborhood," says Ginsberg.
"A lot of people see this neighborhood as home, even if they've had to leave. They come back maybe for church or to see their friends or go to the barbershop and it was really important to people that their health clinic was in their home neighborhood."
Ginsberg stressed her displeasure with the displacement she's seen happen to minority and low income residents in inner north and northeast Portland and didn't want her clinic to be another one. She has grown close to the predominately African American clientele the clinic has served since she founded it with the late Pastor Mary Overstreet-Smith in August 2006.
The clinic's history serving uprooted citizens runs deep as its beginnings were somewhat a response to Hurricane Katrina in 2005 when Pastor Overstreet-Smith helped relocate 30 storm-displaced families from the New Orleans area to the Pacific Northwest.
"I felt very overwhelmed and I had no idea what to do to help with all of that," says Ginsberg. "When I saw what she was doing I was inspired by it, and I thought maybe she could use some help."
Ginsberg rallied her neighbors to help collect items like diapers and food for the families, but Pastor Overstreet Smith wanted Dr. Ginsberg to take her donated supplies and talent to a lofty next level.
"I wasn't thinking about a huge project. I wanted to do something to help but I wasn't thinking on that scale," says Dr. Ginsberg. "She'd given me the opportunity to do something real for my community. I couldn't just walk away. I don't think I could live with myself if I did that."
Walking away is the last thing Dr. Ginsberg did. She retired from her practice with Kaiser two years ago and has taken over as the main face of NxNE since Pastor Overstreet-Smith died on Aug. 20 of this year. She wants to continue Pastor Overstreet-Smith's legacy, promising no adverse changes to the clinic with the relocation.
"A lot of our patients have been treated poorly in the healthcare system," says Dr. Ginsberg. "Some of them have never had a good experience ever in a doctor's office or even worse, have only had bad experiences, so just walking through the door is a big deal and it takes a lot of trust."
North by Northeast's new location will be accepting new patients with the Oregon Health Plan and will continue to offer assistance to those that need help applying for insurance. To ensure its connection with the community the clinic will remain reachable by their current phone number, so Dr. Ginsberg encourages anyone with questions to call 503-287-4932.
"As a small clinic we've been able to really build relationships with people. We know every patient by their name and we recognize their phone number when they call," says Dr. Ginsberg. "We've made it a real point to do things to make the people we're trying to serve here more comfortable. Our patients know that we have their back and it makes a huge difference."