Shared Goals
A bridge to community-focused policing
10/11/2016, 4:17 p.m.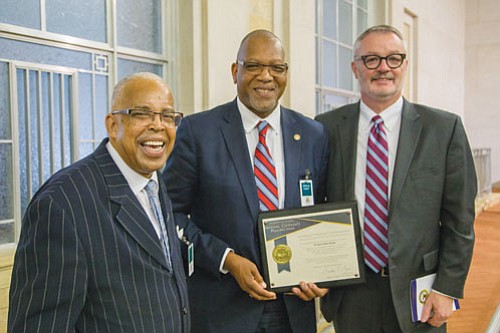 Two members of Portland's black community, one representing activists pushing for police reforms and tackling racial issues within the Portland Police Bureau, and the other a longtime member of law enforcement, were guests of the U.S. Attorney for Oregon at a national conference on community policing.
Portland Police Captain Kevin Modica and Rev. Dr. LeRoy Haynes Jr. of the Albina Ministerial Alliance were accompanied by Billy J. Williams, Oregon's top federal prosecutor, at last week's inaugural Distinguished Service in Community Policing Awards Ceremony at the Justice Department's headquarters in Washington, D.C.
Williams praised Haynes, who serves on the AMA's Coalition for Justice and Police Reform, and Modica, for the work they do to improve the relationship between community members and police throughout the Portland area.
"Community policing is founded in the commitment of both law enforcement and citizens working together to build trust and safer neighborhoods," Williams said. "I admire Captain Modica and Rev. Dr. Haynes's leadership in building bridges between our law enforcement agencies and the communities they serve."
Williams said true community-oriented policing is not a goal that can be achieved overnight, but said he was confident that with the example set by Haynes and Modica, "Our work will be a success."
Attorney General Loretta E. Lynch, the Obama administration's top justice department official, and Deputy Attorney General Sally Q. Yates delivered remarks at the event, along with Ronald Davis, director of the Department of Justice Office of Community Oriented Policing Services.
The awards ceremony was held in conjunction with National Community Policing Week.