Do Not Resist
Documentary on policing in America
10/18/2016, 3:50 p.m.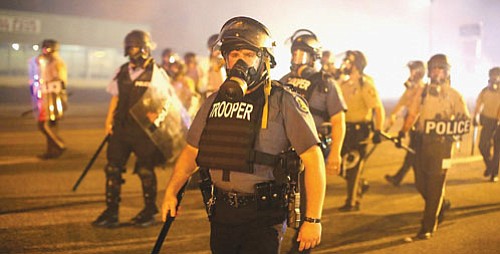 Winner of the best documentary award at the Tribeca Film Festival, "Do Not Resist" starts on the streets of Ferguson, Mo. as the community grapples with the death of Michael Brown and offers a stunning look at the current state of policing in America and glimpses into the future of increasingly militarized forces.
From a ride along with a South Carolina SWAT team, to a look inside a police training seminar that teaches the importance of "righteous violence," to the floor of a congressional hearing on the proliferation of armed-combat equipment, a picture emerges of a future of high-end weapons and battlefield tactics in communities large and small.
Portland State University's School of Social Work is sponsoring the screening of the documentary as part of the Northwest Film Center's Voices in Action: Human Rights on Film series. The film will play at the Portland Art Museum over four nights, at 7 p.m. on Tuesday, Wednesday and Thursday, Oct. 18-20, and at 9 p.m. on Friday, Oct. 21. Director Craig Atkinson and producer Laura Hartrick will introduce the film and lead a post-film Q&A at the Tuesday screening.
Admission is $9 general and $8 for students and seniors. For advanced tickets and more information, visit nwfilm.org.