Historic Artist in Black Smithsonian
Portland niece thrilled with aunt's selection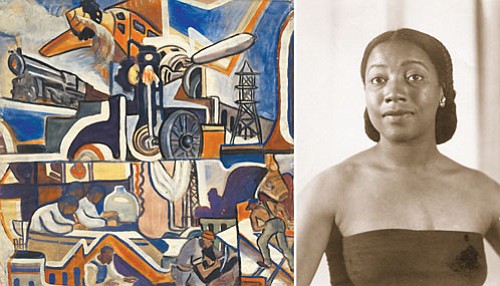 The Smithsonian Museum has taken notice of a historic and distinguished black artist from Portland.
Last month, the prominent institution bought Thelma Johnson Streat's "Medicine and Transportation Mural" to be part of the new African American Museum of History and Culture in Washington D.C. Carlene Jackson, Streat's niece, was invited to D.C. to participate in the viewing reception.
"Our family was just so thrilled that they chose one of her works to represent the African American art for that permanent collection in the museum," says Jackson. "I felt very touched because I knew she would have been so honored and so proud that her work would be in the new African American Smithsonian."
Streat's work garnered much attention and success during the Great Depression. She participated in a New Deal public works program meant to give artists employment. She contributed five pieces to the program, but her "Medicine and Transportation Mural" was part of a collection of paintings she made during the 1940s.
Born in 1911 in Yakima, Wash., Streat eventually relocated to Portland with her family where she began pursuing her art career in addition to creative and interpretive dancing. She attended the Pacific Northwest College of Art where she was later awarded post humorously a doctorate degree that Jackson received on her behalf in 2010.
Jackson attributes part of her aunt's success to PNCA and Reed College, who held exhibits for Streat early on in her career. Reed College even holds one of Streat's works, "The Black Virgin," in their permanent collection.
Streat's works have also been featured at Portland Art Museum, northeast Alberta Street's Art Hop and the Oregon Historical Society. The Harmon Foundation in New York gave her an honorable mention at age 18 for her painting "The Priest" and she her works even attracted the attention of renowned artist Diego Rivera, who trusted her to assist him in painting his famous Pan American Unity mural.
"The work of Thelma Johnson Streat is in my opinion one of the most interesting manifestations in this country at the present," Rivera wrote in a letter to a Los Angeles art dealer. "It is extremely evolved and sophisticated enough to reconquer the grace and purity of African and American art."
Not all of Streat's work was met with such positivity, as a piece she painted after World War II garnered hatred from the Ku Klux Klan.
As a visual protest to the increase in lynchings of black men and soldiers following the war, Streat painted a piece depicting a black sailor being hanged called "Death of a Black Sailor," which led the Ku Klux Klan to send her a threatening cease and desist type letter. Streat and the Los Angeles museum the work was featured in held their ground and the painting remained up.
With all of her creative and cultured stories to share, Streat offered some entertaining light to her family whenever she would come back to visit.
"As children, we were just so thrilled. When she would come home it was just exciting for us, listening to her stories and watching her paint," Jackson recalls. "She would do her creative dancing too and we would try and copy her moves."
Streat passed away at age 47 in 1959 and her family wished to carry on her cultural contributions as well as their fond memories of her, eventually leading them to start the Thelma Johnson Streat Project in 1991 as a means to energize attention to her works.
Jackson says the family is focused on getting as many of Streat's pieces viewed by the world as possible and that in addition to seeking venues to show her art locally, they're in the process of putting together a travelling exhibit to hit the country's various museums.
"She just had this bigger than life, life," says Jackson. "She was really an exciting figure for our family and we were just so proud of her growing up and still are."