Lost City, Living Memories
Vanport film of first-person narratives
10/18/2016, 4:29 p.m.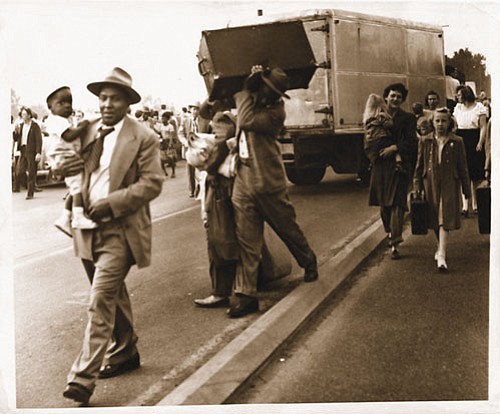 You're invited to see a special screening of the community-produced short oral history documentary featuring former Vanport residents sharing their memories of a 1948 flood that destroyed their city rooted in Portland's African American history.
"Lost City, Living Memories: Vanport through the Voices of its Residents" will play Saturday, Oct. 22 at 2 p.m. at Portland State University's Smith Memorial Student Union, downtown.
Through archival footage, historic photographs, and compelling first-person narratives, this collection of short films creates a rich and elaborate "mosaic" of the vibrant community that made up the city of Vanport.
In addition, archival photos and maps from the city, part of the exhibit Vanport: The Surge of Social Change co-curated by Oregon Black Pioneers will be on display. And history professor James Harrison of Portland Community College's Cascade Campus will answer questions. Harrison is currently conducting research and is in the early stages of writing a comprehensive social history of Vanport and its impact on Portland.
Former Vanport residents will also share their memories and Portland author Zita Podany will be signing copies of her book "Images of America: Vanport."
Tickets are $5. For more information, email vanportmosaic@gmail.com.