Equity on Employment in Courthouse Build
Aggressive goals set for a diverse workforce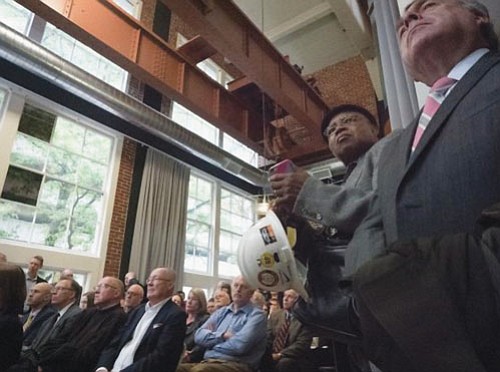 Multnomah County has set a high bar for hiring a diverse group of workers to build a downtown courthouse to replace the existing county courthouse which is more than 100 years old.
Two public outreach events to discuss the contracting process and the anticipated work required, will be held this month as a groundbreaking for the $300 million project has just gotten underway.
Building a new 17-story courthouse with 44 courtrooms is expected to provide 500 family wage jobs. The county says it has set aggressive goals for many of those employment opportunities to be filed by disadvantaged, minority-owned, woman-owned and emerging small businesses.
Aspirational goals for both minority apprentice level and journey level workers on the project was set at 20 percent or more of the total trades workforce in each category. For women, the goal is for females to hold 25 percent of the construction jobs, both at the apprentice and journey levels.
"This is going to be one of the largest public works projects in this region, probably over the next several years," said Oregon Senate Co-Chair of the Joint Ways and Means Committee Richard Devlin at the Oct. 4 groundbreaking ceremony. "People should understand the more that you require women to be apprentices on these project, the more women will be available to be journey level partners on this project."
The central courthouse project team has worked with local trade unions to develop a labor agreement and set the goals for minority and women apprenticeship and journey level workers. Light construction activity has already started on the corner of Southwest First Avenue and Madison where the new courthouse will be located. Heavy construction is expected to begin in January and the courthouse is anticipated to open in 2020.
Multnomah County is the lead agency for the Central Courthouse project. A team led by SRG Partnership was selected for architecture and engineering services, while Hoffman Construction was named Construction Manager/General Contractor in July.
Both the county and its partners are committed to providing equal opportunities and encouraging minority, women and emerging small business firms to compete for contracting opportunities.
On Thursday, Oct. 20, the Oregon Electric Group, one of the prime courthouse contractors and a major contractor for many other public and private projects, will hold a minority contracting outreach event for disadvantaged, minority-owned, woman-owned and emerging small businesses to discuss its pre-qualification process and current work needs. The session will be held at the Oregon Electric corporate offices at 1709 S.E. Third Ave., from 3:30 .m. to 5 p.m. RSVP at oegmwesb2016.eventbrite.com.
Next week, Hoffman Construction will host a courthouse project subcontractor open house to discuss the scope of the work it needs. The session will be held Thursday, Oct. 27 from 1:30 p.m. to 3 p.m. at the Jefferson Station Building, 1230 S.W. First Ave. For more information, contact Faye Burch, project equity coordinator at 503-936-6898 or fayemburch@gmail.com or Justin Paterson, project manager at 971-409-2810 or email justinpaterson@hoffmancorp.com.