Jefferson Athlete Remembered
Gary Ladd
10/25/2016, 4:43 p.m.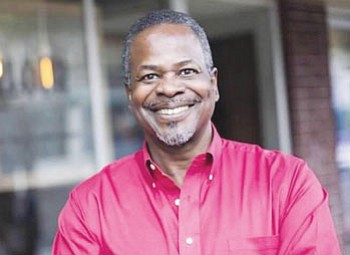 Gary Allen Ladd Sr., a basketball legend from Jefferson High School's Class of 1968, died on Oct. 12, 2016 in Seattle as God called him to be one of his Disciples in Heaven.
Also known as Niam Aziz, Ladd was born Feb. 13, 1950 in Commerce, Texas to Virgene Roberts and Billy Ladd Sr.
His family left Texas and moved to Portland at an early age where he attended grade school and high school. He was an outstanding student athlete, known for leaping and jumping out of the gym. It was during his time at Jefferson that he met his soulmate and best friend, Gloria Jean Johnson. As he became a basketball phenom, she cheered him on as a Jefferson cheerleader. He was recruited to play basketball by multiple Division I colleges. Arizona State University had offered a full ride, but Seattle University had the offer of a lifetime by giving him a lifetime scholarship and a partial scholarship for his fiancée, Gloria, who had aspirations of becoming a school teacher. Gary took the offer and the couple moved to Seattle. They started their family in 1968 and on March 31, 1969, they were married.

Gary loved to have fun in life. His joy was watching his children grow into adults and being around his 18 grandchildren and three great grandkids. They adored their "Big Daddy!" Everywhere Gary went, he would strike up a conversation, flash his smile and leave his positive energy. He was an ultimate optimist and a good friend to many. He worked as an instructional assistant substitute with Seattle Public Schools until his death. He was a beaming light and spread joy in the schools.
He was a remarkable leader who touched lives from the basketball court, to the barbershop, and on to the pulpit. He opened Gary Ladd's Studio 620 Hair Salon in 1979, where he continued impacting lives from the barber chair. He later became an ordained minister, spreading the word of self love. He believed in spiritual empowerment and preached it everywhere he went. He touched lives at a monumental level. Everyone loved his energy, his spirit and his smile. He was a phenomenal father and husband who cherished family. He loved basketball and so did his children and grandchildren. His offspring has played at Rainier Beach High School and at the college level from Washington State University, Central Washington University to San Jose State. He always had a new idea or a new venture that he would be excited to talk about. He was funny and always enjoyed a good conversation, especially a religious debate. There are few men who can impact the lives of so many like Gary Ladd. He has left a lasting, lifelong impression on his family, community and friends. His kind words and love will be truly missed by everyone who knew him.
Gary was preceded in death by his mother and father. Survivors include his siblings Billy Eugene Ladd, Sheila Barber, Vernon Ladd (Beverly), Kimberly Ladd, Pamela Ladd, Vickie Ladd and Ronnie Ray Ladd; children Dinah Jean Ladd, Gariane Lavette Ladd-Davis (Glenn), Mychal Ahzunique Ladd, Gary Allen Jr., (Shandra), Gabriel Ahmad Ladd (Kiaira), Keenan Allen Ladd and Gimari Alieke Ladd-Jones (Champlin); grandchildren Najee Ladd-Ali, Asia Ali, Samari Ali, Aliyah Davis, Ahmad Davis, Jamir Davis, Mychal Ladd, Khadijah Ladd, Myzhunique Ladd, Naim Ladd, Nyjah Ladd, Kavay Miller-Ladd, Imani Ladd, Gabriel Ladd, Kapri Ladd, Kaiya Jones and Champlin Jones III; and great grandchildren Lauren Ladd, Kyrie Ladd and Mylah Brown
A memorial services was held on Saturday at River of Life Fellowship in Kent, Wash.