Roosevelt Damage
Pranksters vandalize school's new wing
10/25/2016, 4:40 p.m.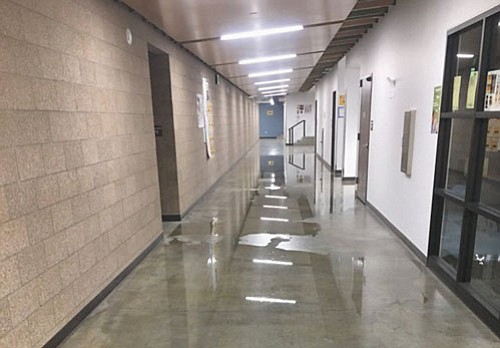 A newly opened wing of Roosevelt High School providing much needed classrooms for the north Portland landmark which is undergoing a major remodel fell victim to vandalism earlier this month, to the tune of almost $300,000 in damages.
Roosevelt High Principal Filip Hristic says six classrooms and six bathrooms are deemed unusable until repairs are made due. The flooding was traced to an act of vandalism by teens that do not attend the school but who were on campus because of a basketball camp the school was hosting.
Video surveillance footage shows the teenagers, dressed in jerseys, defacing a whiteboard, unnecessarily spraying a fire extinguisher and turning on an emergency shower in a science lab, leaving the water to flood many corridors of the school's new wing, including an elevator shaft. The water ran for more than two hours.
The class that normally uses the science lab where the vandalism took place has been relocated to the school's food pantry, with other classes having to be set up in the school's gym, conference room and library.