Voting Begins
Large ballot packed with candidates, issues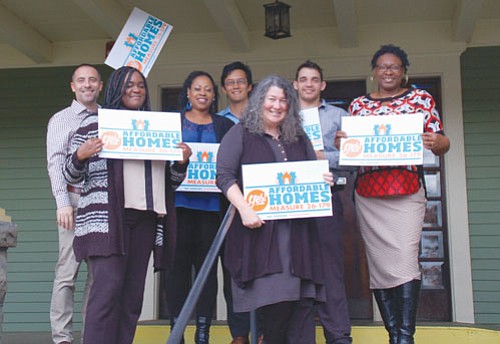 A large ballot with elections to decide who will be Oregon's next governor, a Portland City Council position and several ballot measures ranging from a city tax on marijuana to taxing sales on large corporations to fund state services is now in the hands of voters.
Vote-by-mail ballots were delivered to registered voters in Portland and the rest of the state over the past few days and are due back by 8 p.m. on Tuesday, Nov. 8. The large amount of issues and positions facing the electorate shows there is a lot competing for your attention against the contentious presidential election consuming much of the news.
Two candidates who won more than 50 percent of the vote in Portland's non-partisan May Primary elections, Mayor-elect Ted Wheeler and incumbent City Commission Amanda Fritz, will automatically start their terms in January without facing voters again. Candidates that wonparty nominations in May will now appear in the current general election.
It means that Oregon Commissioner of Labor and Industry Brad Avakian, who won the Democratic nomination for Secretary of State, is up against State Rep. Dennis Richardson, who won the Republican nomination. On the gubernatorial front, former Secretary of State and incumbent Gov. Kate Brown is seeking election to continue carrying out the rest of former Gov. John Kitzhaber's term, following his 2015 resignation due to an ethics scandal. Brown faces Republican nominee and physician Bud Pierce.
Portland City Commissioner Steve Novick is asking for re-election in a runoff race against Chloe Eudaly. Novick was the only city commissioner to vote against a controversial new police union contract siding with police reform activists. Eudaly has earned goodwill in the community as owner of the alternative press shop Reading Frenzy in north Portland and as co-founder of the Independent Publishing Resources Center.
Of the more than 10 measures facing voters, much of the media attention has been given to Measure 97 – a testy corporate tax that would be placed on about 1,000 of Oregon's biggest businesses or "C Corporations." If it passes, the state's rocky track record with revenue could be set back on track, as the 2.5 percent tax on sales over $25 million has potential to rack in $3 billion for the state, easily surpassing a projected $1 billion shortfall in the state's 2017-2019 budget.
A less contentious proposal comes as Measure 26-180, which is a three percent sales tax on recreational marijuana for the city of Portland, expected to bring in an additional $3 million annually. Proposed by Commissioner Fritz, the measure requires that all of the revenue generated from the tax be put towards drug and alcohol treatment education and programs, focusing support for local women and minority owned businesses, and training for paramedics and cops, while dropping a current recreational marijuana tax by five percent.
What seems to address a more poignant issue for Portlanders specifically is Measure 26-179, which could help the city's current housing crisis. If passed, the measure would allocate $258 million in obligated bonds to go towards affordable housing for low income households.