Voting Begins
Large ballot packed with candidates, issues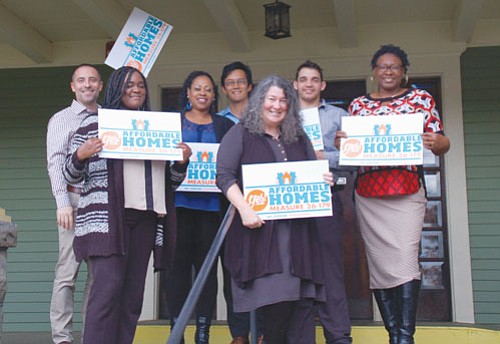 These bonds would be reviewed by an independent oversight committee and used to purchase and renovate existing homes to maintain affordability, build new affordable homes and prevent displacement by helping families stay in their homes. A mix of housing units would be built and featured, helping senior citizens as well as those with disabilities.
"The families who have been on our affordable housing waiting list will be the first to tell you there are not enough homes in Portland that are affordable to low-income families, working parents, and seniors," says Travis Phillips, the director of housing and development at Portland Community Reinvestment Initiatives, Inc. (PCRI). "We support the affordable housing bond measure because it helps address this critical shortage."
PCRI has a long record of helping Portland's vulnerable populations, and according to Phillips, the housing measure would directly serve the community.
"The bond is an investment in people and their ability to break the cycle of poverty," says Phillips. "We see it every day in the residents who live in PCRI homes, but we know our city needs more homes to give people this opportunity."
A controversial measure facing voters in Multnomah County is Measure 26-183. If passed, it would amend the county charter that allows for the sheriff position to be elected, giving the County Commission the power to hire a police chief much the way it works in Portland city government and for many department head positions at the city and county level.
County Measure 26-184 would place a $500 political contribution cap from any individual or political action committee. The measure would also limit independent campaign expenditures to $5,000 per individual or $10,000 per political committee, as to shift focus from rich donors looking to sway public policy and place it on small donors.
Two state measures facing voters will impact students and education. Measure 95 addresses investments, with the passing of it allowing for public universities and schools to invest in equities. Money raised through the investments would go towards increasing funds used to help students and reducing financial institution risks.
Measure 98, if passed, would require Oregon Legislature to put money into dropout-prevention plans as well as college, vocational and career readiness programs, which has high chances of raising high school graduation rates. Oregon currently has the third worst high school graduation rates in the country according to recent reports from the U.S. Department of Education.