Write-in Campaign for Sheriff
'Don't Shoot' activist Raiford seeks votes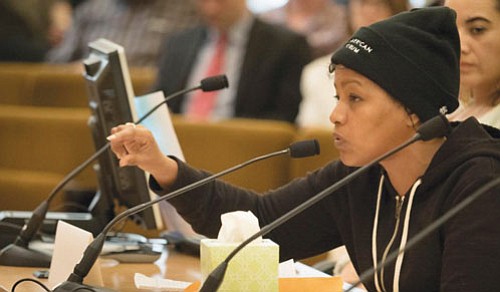 Just as ballots went out for the Nov. 8 General Election, Don't Shoot Portland founder and police reform activist Teressa Raiford has announced the launch of a write-in campaign for Multnomah County sheriff.
"Mike Reese is unfit to be the Sheriff," Raiford wrote in a press release announcement Monday. "He was a bad police chief and he'll be a bad sheriff."
Raiford has been deeply entrenched in activism calling for police accountability and racial justice since her nephew was shot and killed by Portland police in Old Town in 2010. She ran an unsuccessful campaign against Multnomah County Commissioner Loretta Smith two years ago.
Formerly Portland Chief of Police, Reese was appointed interim sheriff in August following the forced and controversial retiring of Dan Stanton, amid accusations of sexism, profiling and misuse of department money among other things.
Reese's tenure as chief was pervaded by a Department of Justice investigation into his bureau's excessive force against the mentally ill.
Though late in the game, Raiford's write-in campaign announcement has already sparked support from other activists. With just two weeks left until Election Day, Raiford is ambitious in becoming the voice of Portland's minority, displaced and mistreated communities.
"We need a sheriff who doesn't lie and protect killer cops. We need a sheriff who can provide this county with real leadership and change," says Raiford. "We need somebody who can change the toxic culture in our law enforcement system, somebody who understands that brown and black lives matter in Multnomah County."